Nvidia Q1 - Demand Surges
26-MAY-20
Nvidia is another Vestact-recommended stock holding that is currently trading at an all-time high, despite the Covid-19 pandemic. The company produces fancy computer chips that are used for high-end applications like gaming, robotics, automotive control systems and data-centres. These chips are commonly referred to as graphic processor units (GPUs).

Nvidia had first quarter results out last week and they were very good. Their forecast for second-quarter revenue was strong, mostly due to surging demand caused by all the working and gaming from home. The company also said that the forecast for Q2 includes contributions from its recent purchases of Israeli chip firm Mellanox and Mountain View, California-based Cumulus Networks. Michael wrote about those deals here: Nvidia purchases two data-centre companies.

They recently introduced a new line of A100 GPUs for data-centres, based on the 7nm Ampere architecture. If you already know what that means, well done. But it sounds good, right? Ok, I went and looked it up on the Nvidia website, so here goes. The A100 offers the largest increase in performance over the prior eight generations of Nvidia GPUs, with a 20X performance improvement over the previous generation V100 series (those are now three years old). The A100 is the first Nvidia GPU to feature multi-instance GPU capability, which allows each A100 to be partitioned into as many as seven independent instances for inferencing tasks. Hmm?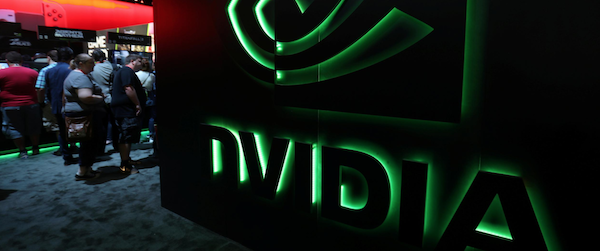 I suppose that all that matters is that lots of cloud service providers and systems builders are planning to incorporate A100 GPUs into their capital projects. Nvidia says that this is their customer list: Alibaba Cloud, Amazon Web Services, Atos, Baidu Cloud, Cisco, Dell Technologies, Fujitsu, GIGABYTE, Google Cloud, H3C, Hewlett Packard Enterprise, Inspire, Lenovo, Microsoft Azure, Oracle, Quanta/QCT, Supermicro and Tencent Cloud. That should do the trick!

It was not all plain sailing, and some of Nvidia's market segments were hurt by the pandemic. The company expects sales to automotive customers to fall 40% next quarter. But Nvidia CEO Jensen Huang said in an interview that some of those companies were also investing in robotics for the future, with Nvidia supplying the chips.

The gaming business is doing ok, although the second half of the year will depend on overall consumer spending trends. You may have more time to game if you are unemployed, but you also won't have the money to upgrade your rig. The new Ampere generation Gaming GPU will be launched later in the year.

Goldman Sachs reckon that Nvidia can be bought all the way up to their 12-month price target price of $370. It closed at $361.05 on Friday. Hang on, that is not much of a gap! Whatever, just buy them, they are going higher.