Nvidia Q3 - Putting Bitcoin Bubble Behind Them
19-NOV-19
Last week graphics card (GPU) maker, Nvidia released their Q3 results which beat market expectations. Over the previous 18 months the share price has been rather volatile. It reached a high of around $280, then a low of around $130 and is now trading at $205.

The reason for all the volatility is the hangover in the GPU market from the bitcoin bubble bursting. The impact on Nvidia was a drop in sales and inflated stock levels. Here are the numbers, Revenue was $3 billion for the quarter, down 5% year over year but up 17% from the previous quarter. The change in Net Income is even more significant, where for the quarter it was $899 million, down 27% year over year but up 63% quarter on quarter. The numbers show that the company is back on course, their sales are trending higher and stock levels have improved, going from $1.5 billion to $1 billion.

Below is a table of the size of each of their divisions: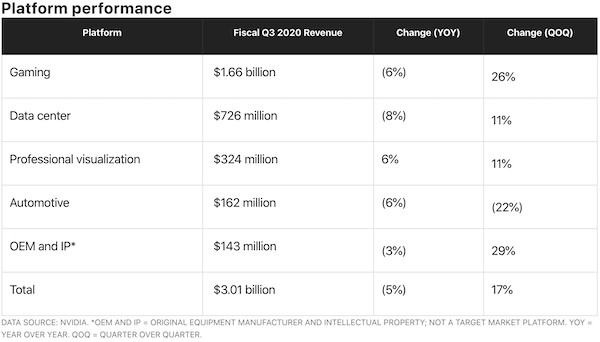 (Found at The Motley Fool)

As you can see, gaming is still the biggest division. It is double the next biggest division. After suffering a massive blow when Bitcoin sank, the gaming division has had three straight quarters of growth. You don't own Nvidia for gaming though. You own it for the exciting prospects for their other divisions. Automotive is self driving cars, an industry still in its infancy. Data centres focus on the processing of massive amounts of data. The industry is expected to grow at an exponential rate, thanks to the Internet of Things (IoT). Data is useless until you have analysed it, so these data centres will become more critical as more of our lives go online.

The company is the leader in the GPU market, and as such trades at a premium. We still like the company as the sectors they operate in are very exciting and have massive growth potential. For clients who can stomach a bumpy ride, we recommend getting a position.