Amazon 1Q - profit more than doubles
04-MAY-18
Last week Amazon reported 1Q numbers, which far surpassed analyst estimations. For Amazon, you are never quite sure how much profit will drop to the bottom line from their billions in revenue; profits are a bit of an optional extra in their current growth phase.

For the quarter, the group had Net Income of $1.6 billion, up 125%. The biggest contributor to profits is still their AWS division which had operating profits of $1.4 billion, up 57%. Their e-tail business is split into two very distinct divisions. North America which had an operating profit of $1.15 billion, up 93% and then International which made a loss of $633 million.

Their Revenue growth is staggering, for the last three months they had $51 billion in revenue, up 43%!. From the graphic below, you can see that even though AWS is their biggest profit driver, it is rather small in terms of overall sales. Without AWS, they would not have been able to grow the e-tail division as quickly as they have. Rewind 3-years, AWS was not even on most analysts radars; amazing how quickly the technology sector changes.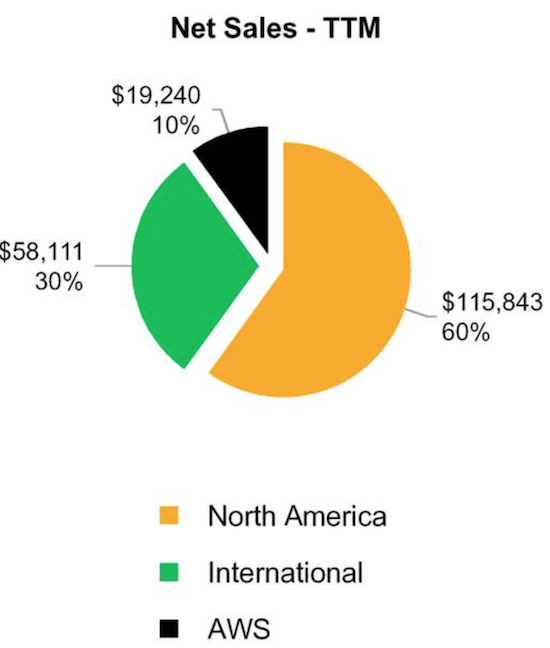 Probably the biggest news from their numbers was that they are raising the price of Prime in the US by 20%. We know that Amazon has over 100 million Prime subscribers, we are not sure how many are in the US though. Roughly speaking this increase will add around $1 billion in free cash flow, which will then be used to increase their distribution network.

There is no doubt that Amazon, has and will change the world. They will need to continue changing our lives to live up to the lofty expectations from the market. As a shareholder, it has been an exciting rollercoaster ride; I don't expect things to calm down anytime soon.