JnJ 2Q numbers
21-JUL-17
Johnson & Johnson or JNJ if you like, reported numbers for their 2nd quarter of their 2017 financial year earlier this week. The history of any business always fascinates me, in this case there were three brothers (obviously called Johnson), the eldest became a pharmacist and went to NYC to start a career as a drug salesman. He (Robert Johnson) went into business with a fellow called Seabury, back in 1873, selling medicated plasters. In other words, the precursor to the bandaid.

In a few short years they were a global business, Robert promptly went to the World Fair in Philadelphia in 1876, where a large gathering of doctors (the biggest in US history) heard of the business more widely than before. It was there that Robert Johnson learnt about antiseptic surgery (from Dr. Joseph Lister), and was taken with the idea. Not all were struck with that, it was a long time ago, remember. 10 odd years later, Robert teamed up with his younger brothers, James and Edward Mead to form JNJ. Making what? Mass produced sterile surgical supplies. Treated gauze made infection less likely, remember that this was a time before antibiotics.

Today the company is synonymous with health and well-being, some of the products are part of many middle income households across the globe, the company estimates that their company touches the lives of a billion people a day. Many of the products find their space inside of hospitals and medical centres, they have three distinct and separate businesses. Whilst we often associate the billions in use with the technology companies, this business certainly has the reputation and history to continue to advance medical science for the better of their customers. And their shareholders, JNJ have increased their dividend payment every single year for 54 years. Forget all the stock market and economic gyrations in-between, the company has still delivered to their shareholders.

Their three businesses consist of the following, firstly the consumer segment, which is the best known of the lot, brands include Listerine, Neutrogena, Pepcid, Clean & Clear, Stayfree, Carefree and of course Band-Aid. Then there are other brands like Tylenol and Sudafed, over the counter drugs that are well known globally. Who hasn't used JNJ products when they had (or were) kids? In their Pharma division, the biggest of the lot, there are five key segments, immunology, infectious diseases and vaccines, neuroscience, oncology and cardiovascular and metabolic diseases. The Medical Devices segment is a competitor to another recommended stock, being Stryker. All sorts, a copy and paste from the annual report: "products used in the orthopaedic, surgery, cardiovascular, diabetes care and vision care fields."

Here is a breakdown of their sales by region and segment: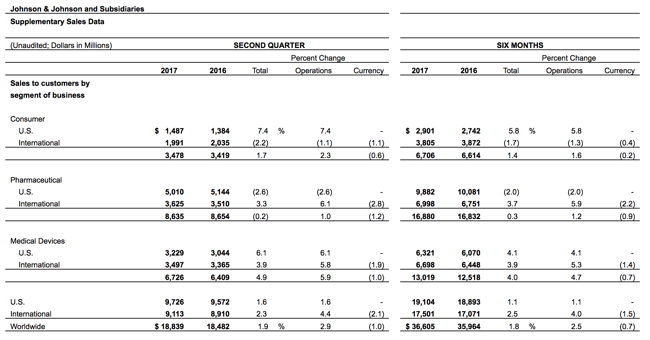 The business is basically more than half the US, and mostly pharma at that. There has been calls over the years to unbundle or break the business up into the separate entities, to "unlock" shareholder value. We think that the business is better together, steadier and stronger, less volatile. JNJ also has a strong pipeline of 10 new products by 2019 (each expecting sales of 1 billion Dollars plus), as well as an additional 40 "line extensions" by that date too (10 of which will potentially have sales of 500 million each). I suspect that even though many consider the business "boring" and less exciting than some of the other biotechnology sector, there is a LOT to be said for "steady".

The company also updated their guidance: "The Company increased its sales guidance for the full-year 2017 to $75.8 billion to $76.1 billion. Additionally, the Company increased its adjusted earnings guidance for full-year 2017 to $7.12 - $7.22 per share." So where does that leave us, from a valuations point of view? The share price is roughly 135 Dollars. With those earnings, the stock trades on 18.7x at the top end of the range. The dividend is 84 cents a quarter, pre-tax that equates to just shy of 2.5 percent. It is neither cheap, nor is it expensive, Goldilocks obviously washes her hair with the Johnson's baby (golden) shampoo, no more tears.

It is always a good time to own this business. Their unblemished track record is something that they are no doubt very proud of, and perhaps the envy of their peers. If you are looking for the blue in blue chip, look no further.