Alphabet 4q & FY numbers - strong revenue growth
27-JAN-17
The company formally known as Google, Alphabet, reported their numbers for the fourth quarter and full year after the market closed last evening. Google still exists, it is just a business division. For the time being, the other businesses (aptly named "other bets") which includes a whole host of interesting opportunities, is unprofitable and contributes next to nothing on a relative basis to revenues.

It may sound a little strange, and I was having this conversation with a client yesterday about this very point, if you can find an investment that has a founding principle of doing good in the world, that venture may well be staffed with exceptional people that offer an amazing product, and by extension the profitability of such a business will be a foregone conclusion. You will obviously recall the "An Owner's Manual" for Google's Shareholders, which was released at the IPO. You can access the archive of Founders' letters

That letter is always worth reading again, at least once a year. Remember that the same fellows write a similar letter each and a every year. They (Larry and Sergey) suggest that the time horizon for judging whether you are onto something is three to five years. I think that is a fair shake of how one should see any of their newer investments, the "other bets" segment. Herewith the whole group for the full year revenues and income (money received):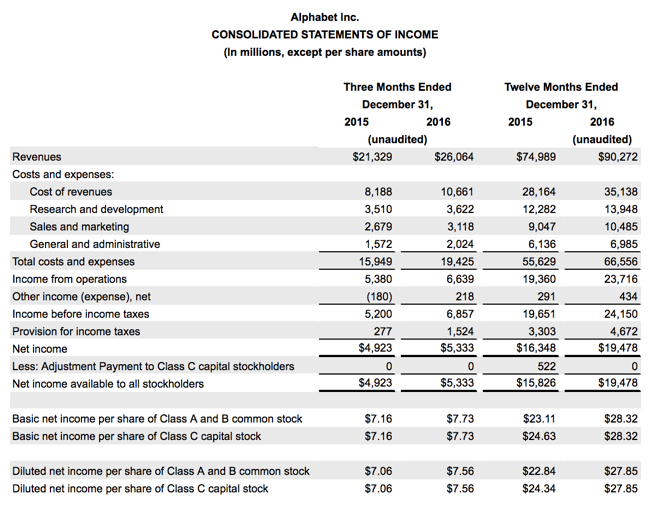 Ruth Porat, the CFO who returned to California after some time on Wall Street, said (for the quarterly part) that "revenues (were) up 22% year on year and 24% on a constant currency basis. This performance was led by mobile search and YouTube. We're seeing great momentum in Google's newer investment areas and ongoing strong progress in Other Bets". For the quarter, non-GAAP diluted earnings per share clocked 9.36 Dollars a share, up sharply from a year prior, shy of the street estimates though, the street had pencilled in 9.64 Dollars of earnings per share. Reported revenues for the quarter were much stronger than the market had anticipated. To put into perspective that this is primarily a "Google" business (all the advertising revenues via the web), that division clocked quarterly revenues of 25.8 billion Dollars, other bets in total increased markedly from last year, still a small contributor, 262 million Dollars for the quarter. That "other bets" sucks so much cash that the operating loss amounted to 1.088 billion Dollars, down from the 1.2 billion for the comparable quarter last year. The core Google business reported operating income of nearly 7.9 billion Dollars.

The market is not too "impressed", the stock is down just around two percent after hours. The long term story remains intact, expectations are for revenues to increase in the high teens this year, to top 90 billion Dollars. In all likelihood, 2018 could see revenues top 100 billion Dollars for the first time. Earnings growth is likely to be in the low twenties percent for this year, EPS may clock somewhere in the region of 41.5 Dollars a share (Bloomberg has 41.26 Dollars), meaning that the multiple (price-to-earnings) is around 20x forward, the PEG ratio is around 1.25 times. That is certainly good value for a company of this magnitude. We remain buyers of what is a business that is always at the cutting edge of innovation, I suspect that "other bets", which may top revenues of 1 billion Dollars this year, is just starting.