"Safe" as Nestle
08-AUG-14
Nestle, one of the best known brands on the planet, closely associated with coffee, ice cream, frozen foods, cereals, milk products, infant milk products, pet food, nutrition and wellness products and of course chocolate (there are at least two vices in there) released their half year numbers yesterday. The results were from what I could tell a beat on expectations, the share price rose over three percent in New York last evening.


For a company of that size and scale (238 billion Dollar market cap), that is pretty unusual considering that the company operates in a segment that is not necessarily known for being revolutionary. As we often say around these parts, liquor and tobacco products may be addictive, food however that is more addictive and generally in wealthier societies it is consumed three times a day. In some cases more, remember however that eating is cheating!


On sales of 43 billion Swiss Francs (multiply by 1.1 to get Dollars) the company managed net profits of 4.6 billion Francs (5.06 billion Dollars), on a per share basis that translates through to 1.45 CHF or 1.595 Dollars. Sluggish growth in developed markets (0.6 percent) was more than offset by growth in developing markets (9.7 percent), the best performing areas being Asia, Oceania and Africa, no surprises there!


Here is a geographical breakdown of sales, the business is still dominated by the Americas and Europe, the company is growing fast elsewhere however: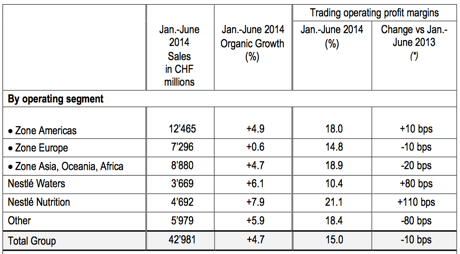 Every single time I see this number for Nestle?s water business I am amazed at how much water people buy, the truth is that water quality is very important for many people. The well to do people in this country certainly take drinking water as a given, you open the tap and you expect quality water to flow out each and every time. Spare a thought for many people across our continent who are not that fortunate.

In Europe the water quality in some key geographies is not the same as in some urban areas here, drinking water must come from a water cooler or from a bottle (safe plastic one to boot). In Germany for instance on a per cubic metre basis, water costs five times as much as in Portugal, all water, a necessity in life, is not as equal as the next bit of water! Check it out from the EU report titled A Water Blueprint for Europe: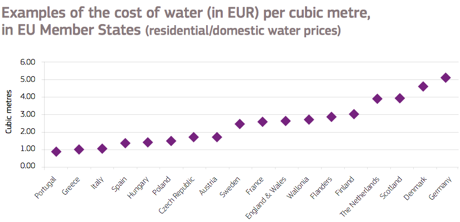 Pretty telling, not only are not all European bonds the same (Germany can raise money cheaper than anybody else) it turns out that not all water in the EU costs the same. As pollution becomes a more global problem and middle classes become more aware of what they put in their bodies, you can quite quickly see that water (as it basically equals life) will become an increasingly important business for companies like Nestle.


You can however see from the graphic of the table of sales by product that their customers care more about their infants and pets, the best margins across the group come from the divisions Powdered and liquid beverages and then with the same trading operating profit margins of 19.9 percent you have the Nutrition & HealthCare and Petcare divisions. Check it out:






This is definitely a company that has all ends of the market sewn up, the quality is indisputable. The outlook is interesting and about what you would expect from a company of this quality and size: "Full-year outlook confirmed: organic growth around 5% and improvements in margins, underlying earnings per share in constant currencies and capital efficiency."


Whilst the company on a peer basis appears neither cheap nor expensive, the quality is enduring. The 8 billion Swiss Franc buyback (nearly nine billion Dollars or 4 percent of the market cap) is welcomed, it has a huge earnings enhancing impact further down the line with fewer shares in issue. This is never going to be a company that grows revenues at 25 percent per annum, it is however never going to be a business that can disappoint terribly. A very, very safe asset to own over many years, the thesis is that their sales will continue to grow across the globe at a faster pace than their peers! Ironically this is the type of company that benefits when there is uncertainty in foodstuffs produced by less scrupulous producers, as we always say, you cannot replicate quality.