Dangote once off, otherwise
21-MAY-14
This morning we received interim results from Tiger Brands for the 6 month period ending 31 March 2014. As Sasha mentioned a few days back they are taking a write down from the 63.35% Dangote Flour Mills (DFM) stake which will have an effect on Earnings. Lets first look at current operations then we can look at the Dangote Mills issue.


As with many of these brands businesses the actual strength of the brands is crucial. Take a look at how Tiger dominates the brand positions in its relevant categories. That is very impressive I must say.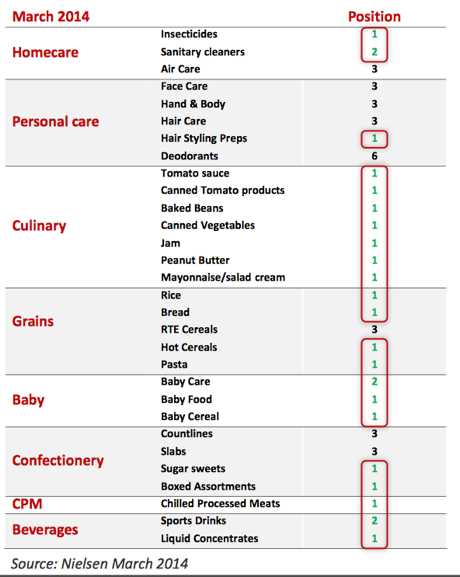 Now to get a better idea of where the business makes its money here is a breakdown of their operating income as well as their margins for the period. Grains is still the dominant contributor but the business is very nicely diversified. Exports and international, excluding Nigeria, is becoming more and more significant, especially after growing 26% in the period. That is crucial for the growth of this business. It was of course helped by the weaker Rand but lets be honest, that is a welcome hedge for a company this negatively affected by a weaker consumer thanks to a weaker rand.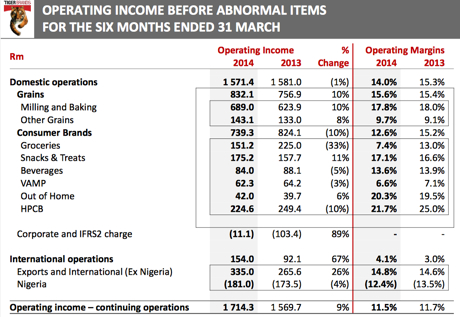 Financials (excluding DFM).


As you can see from the table above, margins were purposely squeezed to maintain volume growth. Turnover which amounted to R14.9bn was up 11%. R11.2bn of that was domestic which increased 8%. The export business grew turnover by 20% to R3.7bn. You have seen the profit details in the table above which all equated to headline earnings per share of 856c, up 7% from the same period last year. This is impressive considering the conditions. I think their strategy to crimp margins and maintain volumes has worked well for them. Internal cost cuts have allowed them to remain very profitable. The dividend has been increased by 6% to a healthy 329c per share.

Lets assume they can double operating earnings in the second half. That would assume earrings of R17.12. Trading at R293 (it reached R238 at the end of Feb this year) we get a forward multiple of 17. As the biggest food producer in the fastest growing continent I'd call that fair.


Dangote Flour Mills

Ok that was the good part, but there is an ugly part as well. Sasha did cover it last week Thursday. Basically they are impairing R849 million, the entire value of the goodwill and intangible assets which were calculated when the acquisition was done. In simpler terms goodwill and intangible assets is the premium Tiger paid over and above the book value (assets you can feel and touch). In other words they paid too much and are writing off that entire premium. But lets go back a few steps.


In September of 2012 Sasha wrote this piece titled More insight on the Dangote Flour Mills deal. It is nicely simplified. Tiger paid R1.5bn for the stake but it had a clause which stated that on top of that they would pay 14 times the current years adjusted profits. That current year was 2012. In the first half of 2012 they made a loss of 815 million Naira (R52m in todays currency) according to the Dangote website. In their results last year they confirmed that they paid no more than the R1.5bn but they also assumed R1.5bn in debt from the business. It was certainly a business in decline when they bought it but they knew that already. Continuous over capacity in the Nigerian milling industry has furthered hampered the turn around.


Yes they may have overpaid in the short run but remember when MTN "overpaid" for their entry into the Nigerian market. I am not saying that this will turn out as well but the numbers are certainly there. I still back management to turn this around in due course, these things take time, especially in Africa.

Conclusion.

All in all I think this is a good set of results and the share price has certainly been rejuvenated. As Shoprite and Co expand into Africa they will naturally take the best Brands with them. We maintain this as a core holding in our portfolio and continue to add.