Cheap, great dividend
09-MAY-14
On Tuesday we received full year results for the year ending 28 February 2014 from Holdsport which seemed fair considering the current conditions. Remember Holdsport comprises of 35 Sportsmans Warehouses, 20 Outdoor Warehouses and they manufacture and wholesale performance brands such as First Ascent and Capestorm. Below is a table which shows sales and sales growth for each of these divisions.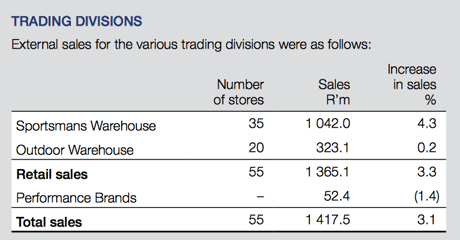 Earnings for the year were solid, operating profit of R250 million from R1.4bn revenue which equated to headline earnings per share of R4.23 which was up 1.9% on the previous year. The stock trades at R41 which puts it on a historic multiple of 9.7. The dividend declared before tax for the second half was 145c, plus 75 cents for the first half for a grand total of 220 cents. This puts the stock on a very decent yield of 5.4%, before tax.


As you can see from the table above, Sportsmans is the big money spinner. During the year, 1 store was closed and one was opened. 1 Outdoor Warehouse was opened during the year. Management are conservatively going about their business in a tough year when the discretionary consumer is under pressure and imports are more expensive. As you can imagine these guys will import the majority of their goods.


I still see massive potential here. The theme speaks for itself, bigger middle class means more people getting active and more children participating in school sports. Sport tickles the core of our competitive existence and that will never change. I do however feel that the stores could become more innovative. Remember when Sportmans first came out and they had basketball hoops and golf driving nets. It was an experience. That novelty has long worn off. Put in a cricket net or even a mini artificial mountain bike course and the kids will come with their big spending parents. They should make it an exciting shopping experience again.


On the opposite side of the spectrum online retail also has a lot of potential. Sportsdirect, a UK retailer has done exceptionally well in this arena. Check out their website here and see what I am talking about. You don?t even have to be that original, you can just copy what has been successful elsewhere.


We continue to patiently hold this one and trust that the strong theme and competent management will grow this business through the cycles.