Nestle H1 results are average
08-AUG-13
This morning we received first half results from Nestle. The company is primarily listed in Switzerland but fortunately for us, they have an ADR listing in New York. Looking at the numbers this company is massive. It is all reported in Swiss Francs (CHF) which will buy you $1.09 today. Sales were up 5.3% to CHF 45.2 bn, operating profit was up 6.8% to CHF 6.8 bn while operating margin increases 20 basis points to 15.1%. That seems very healthy. Earnings per share were up 3.4% or 7.2% in constant currencies. Forward guidance was downgraded to 5% organic growth for the rest of the year. This outlook has unfortunately pushed the share price down 2.2% today.


The earnings per share came in at CHF 1.60. The share trades at CHF 63.2 which puts it on about 20 times this year's earnings. That seems fair enough for a company that is showing solid reliable growth. Reliability affords a premium these days amongst all the volatility and rightfully so. So does that nice 3% dividend yield. Let's look at the actual business.


This table explains it all, from geographic spread to sales by product.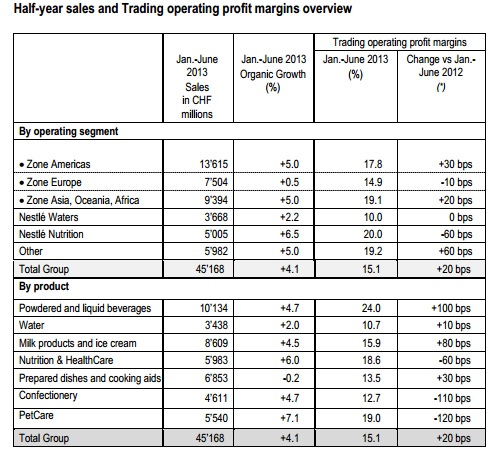 As you can see, for a "European" company sales are not very European. The US is comfortably the biggest and also growing nicely. I'd expect that to continue. As for Europe, I'd expect sales to start picking in that region as the continent starts shifting into slow growth. Developing markets are already very significant and are growing fast. I would expect this to continue.

From the product segment, Powered and Liquid beverages which includes teas, coffee and all drinks except water is doing well. Look at those margins, 24%! Pet care is growing nicely, I guess that is a middle class thing, to own and actually look after your pet. Prepared dishes are flat which is interesting, you'd think that as people work harder they have less time for cooking. It is very competitive though.


Here is what CEO Paul Bulcke had to say: "In the first half we delivered a balanced performance, both top and bottom line, in an environment of lower growth and lower input costs. Organic growth was somewhat muted, reflecting lower pricing by our markets, as we leveraged softer input costs to meet the expectations of today's more value conscious consumers. This, combined with substantially increased investment behind our brands, delivered stronger volume growth momentum, whilst at the same time we were able to improve the operating margin. We expect this growth momentum to continue in the second half, allowing us for the full year to deliver, in line with our commitments, around 5% organic growth with an improvement in margins and underlying earnings per share in constant currencies."


Interesting to see that input costs are coming down. I guess that is a result of good farming conditions but I'd also suspect that farmers are just getting more efficient every year. What people don't realise is that our competitive nature actually fights against inflation every day, making things cheaper and more efficient so that the consumer can benefit. This is a direct example.


I like the stock, it is not going to give you phenomenal growth but like I said earlier, reliability is hard to come by these days. A nice addition to your portfolio to keep in the draw and check up on in 5 years time.