Holdsport, hold the stock, get fit too
16-MAY-13
This morning we received full year results from one of our recommended retailers, Holdsport. For the year ending 28 February, the company managed to grow sales by 10.5% to R1.375bn which resulted in operating profits of R243 million. This was up 7.4% from last year and equated to headline earnings of 416c a share. Let's have a look at their sales mix.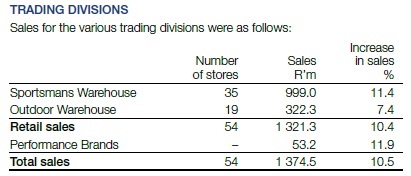 As you can see from the table above, Sportsmans Warehouse compromises 73% of sales, Outdoor Warehouse 23% and Performance Brands 4%. In case you needed reminding, this from the website. "Performance Brands own and distribute brands that produce technical gear, designed to work when you need it most. Our brands include First Ascent, Capestorm and Nathan. Each brand is independently managed through the design, production and marketing stages, and then distributed through our Performance Brands platform."


Fundamentals. For the first half they only made 143c. That means that the second half was very good, nearly 100% more than the first with 273c. That is because it includes the festive period and as Sasha mentioned, summer, where people tend to get more active. The stock trades at R44 and a historic PE of 10.5. Sounds cheap. With a dividend before tax of 200c that is a very healthy yield of 4.5%.


The commentary was interesting. The weaker rand hampered margins somewhat. Product inflation was only 2.9%, this was probably kept in line by strong competition from the likes of Mr Price Sport. They also increased investment in working capital by 24.3% and this explains why sales growth outperformed earnings growth. Nothing wrong with that. The business is increasing its Sportmans trading space by expanding its Fourways store, relocating in Polokwane and adding new stores in Rustenburg and Bloemfontein. An Outdoor Warehouse was also added in Rustenburg while a JV was entered into with Redefine to develop a distribution centre in Cape Town.

They also mention that the base was high in 2011 because of a rugby world cup. This has a big impact on merchandise sales. There is nothing significant this year but next year we have a soccer world cup (hopefully Bafana qualify) and a rugby world cup the following year (hopefully the Bokke win) which should bode well for the future.


Prospects. You know my take on the growing awareness of an active lifestyle. And as our middle class grows these people will enter that realm where first world problems such as watching your calorie intake versus calories burnt, become important. This business is still small which means the room for growth is huge. Opening up Sportsmans stores in Rustenburg and the likes will help the business grow fast as they expand their footprint.


Because it is small opening up 1 or 2 stores can have a big impact on sales. We feel the demand for these kinds of stores is still huge around the country, especially in the smaller towns that are growing fast. Of course being small has its risks and the competition is rife. We continue to like and add to this stock.