Nestle quarterly sales number
19-APR-13
Nescafe, Nespresso, Maggi, Kit Kat, Milo, baby foods, bottled water, cereals, chocolate, coffee, dairy, ice cream, healthcare nutrition, petcare and even a 30% stake in L'Oreal. These are some of the things that make up the $225bn empire known as Nestle who released first quarter sales two days ago. This table in the results presentation literally says a thousand words, laying out sales geographically and by product.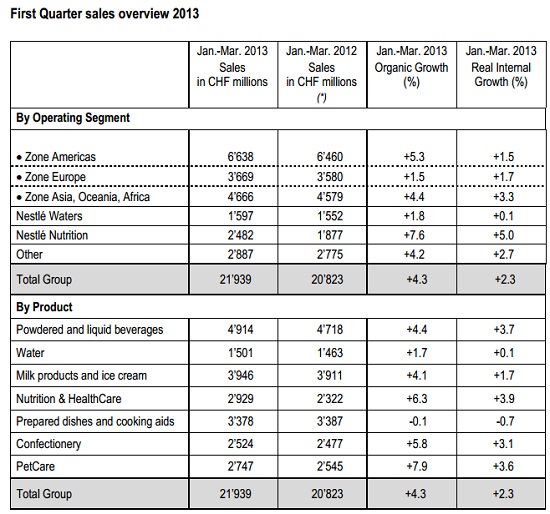 As you can see Zone Americas is comfortably its biggest area even though the company is domiciled from Europe Switzerland. It also has a strong presence in developing markets which is good news and sure to grow. By product there is nothing not to like there if you feel the world is getting richer and the population is growing. Which it is, albeit slowly and off a slow base. My favourites would include coffee (they are the biggest coffee suppliers in the world) which is growing in a big way as Asia shifts from tea to the more caffeinated hot drink. The Nespresso business model is genius, much like Gillette where a client is locked in after buying the machine. I'm sure pod sales are flying.


Bottled water is also exciting. Tap water quality is deteriorating and healthy conscious people don't need, but have to drink water. It's a no brainer. Interestingly the petcare business is one of the fastest growers with the best margins. Dogs are a man's best friend no matter where you are from.


So what kind of returns does this juggernaut afford? For the year 2012 the company made 14bn Swiss Francs operating profit which amounted to CHF 3.33 per share. Trading at CHF 64.90 it is not cheap, 19.5 times historic earnings. Expectations for this year are around CHF 3.58 which shows growth of around 7.5%. According to Bloomberg dividend yield this year is expected to be 3% and that is the kicker to the share price.


I explained to you earlier this week how defensive stocks have done particularly well during these uncertain times. People want safe equity yield and where better to go than the biggest food manufacturer in the world. You are not going to blow the lights out with this one but it is good addition to any portfolio if you want steady growth and a good yield. Warren Buffett recently confirmed his nod for the sector with the Heinz acquisition. We too like the stock and the sector, fortunately there is an ADR listed in New York. We do more analysis when the results come out for the half year.