Netflix Q4 - subscribers soar
18-JAN-19
Last night Netflix reported their 4Q and full year numbers. Let's deal with the quarterly figures versus consensus first and then talk about how 2018 was for the company.

Revenue was in line with expectations of $4.19bn, a 27.4% increase. Total net adds were 11.36 million, crushing expectations. Remember I mentioned that Goldman Sach's estimations were for 10.2mn adds and the general consensus was for 9.4mn adds?

Content spend is still huge, but they have found a direct correlation with content spend and added subscribers. The better the content, the more Netflix becomes a priority in homes, especially as series and films go viral. Apparently Bird Box reached 80 million homes. Who needs to go to the movies these days when you can watch the latest releases on a quality HD TV in the comfort of your own home.

2018 was a good year for Netflix. Take a look at the whopping subscriber growth they had in the year. Netflix films and tv shows picked up 5 Golden Globe wins.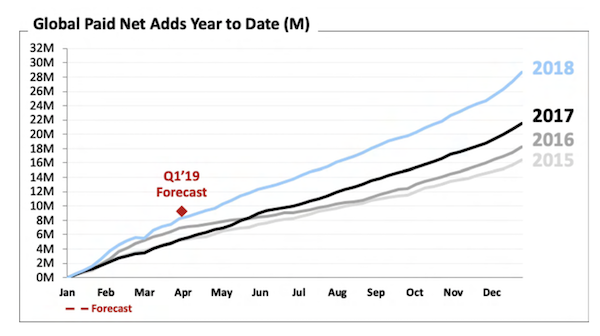 Competition for eyes is rife. In the US they still only have about 10% of TV screen time and even less than that of mobile screen time. Here was some interesting commentary from the release.


"We compete with (and lose to) Fortnite more than HBO. When YouTube went down globally for a few minutes in October, our viewing and signups spiked for that time. There are thousands of competitors in this highly fragmented market vying to entertain consumers and low barriers to entry for those with great experiences. Our growth is based on how good our experience is, compared to all the other screen time experiences from which consumers choose. Our focus is not on Disney, Amazon or others, but on how we can improve our experience for our members."
I must say, that sounds like a very good attitude and so far the aggressive push towards content creation has kept them ahead of the pack.
The share price slumped 3.5% after hours
. Margins were below expectations because of the high content spend and that has investors slightly worried. Not that worried though, the stock is up 35% this year. And just 2 days ago it surged higher because Netflix announced a 13% price hike in some regions. That is the beauty of the model, the service is cheap and the subscribers are sticky. We continue to buy the stock for clients.