Long4Life - 6-month numbers
25-OCT-18
Yesterday Long4Life reported 6-month results which looked decent considering the environment.

In a nutshell, here is what the numbers looked like amongst their three main divisions.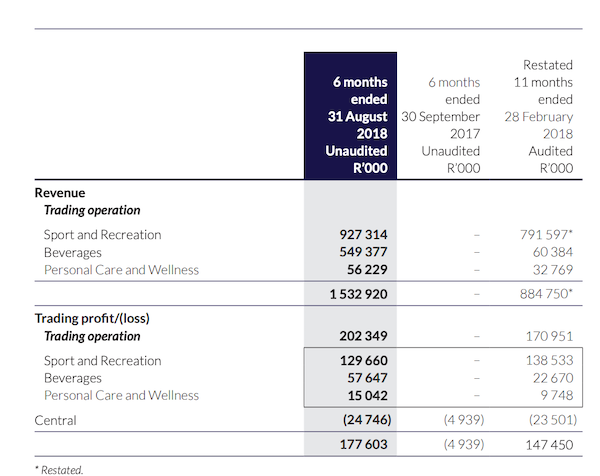 Remember, Long4Life is Brian Joffe's post Bidvest baby. Since listing in April last year they have purchased Holdsport (Sportmans Warehouse, Outdoor Warehouse, First Ascent, Cape Storm), Chill Beverages (Fitch & Leeds) and Sorbet.

As you can see from the table above, the Holdsport base is the biggest for the group. Sales increased 6.3% with very little inflation. I have certainly noticed the smaller Sportmans Warehouses popping up in Sandton City, Mall of Africa and Rosebank. They are great stores and should put a fire cracker under Total Sports who I feel have a shoddy selection.

The beverages business has a really good set of brands. If you drink fancy gin you will know that Fitch & Leeds is a must. Mixing a good gin with Schweppes Tonic is like mixing Johnny Walker with Fanta Orange, so they say.

As you know, we also like the health and wellness sector. Sorbet is a great brand and is also growing its product line well with Clicks. There are now over 200 Sorbets and franchise demand is still strong. Within this division they have acquired a 36% stake in ClaytonCare Group, a sub-acute rehabilitation medical group with private operations in Midstream. This is another area L4L will look to further target.

The company currently trades at 13 times earnings which I guess seems right for the current environment. We like all the spaces they are invested in and believe L4L is well positioned to benefit from a recovering SA economy and a growing middle class. They still have around R1bn to look for opportunities within this buyers market.