Online Shopping Still Fresh
16-MAY-18
Market Scorecard

---
After having the best week in two months, global markets are having a tough week so far. Yesterday on the local market, banks and retailers were down the most, with the bank index down 4.5%. For the US, they had retail sales numbers out before the market opened, which reinforced the idea of the Fed raising rates four times this year. US forward rates now show at least a 50% chance of four rate hikes this year, meaning US treasuries are looking increasingly attractive.
Yesterday the JSE All-share closed down 1.23%, the Dow closed down 0.78%, the S&P 500 closed down 0.68%, and the Nasdaq closed down 0.81%.
Our 10c Worth
---
One thing, from Paul
Which professions are considered trustworthy?
This data was based on a recent survey in the UK. Near the top are healthcare professionals. Bankers and business leaders (a category which I suppose includes asset managers) are rather low, I'm afraid. At the bottom of the pile, unsurprisingly, are politicians.
As Beyonce's husband (Jay-Z) said recently, "politicians are a bunch of liars. It's about self-interest, it's not about the people. It's about themselves and their rise to power."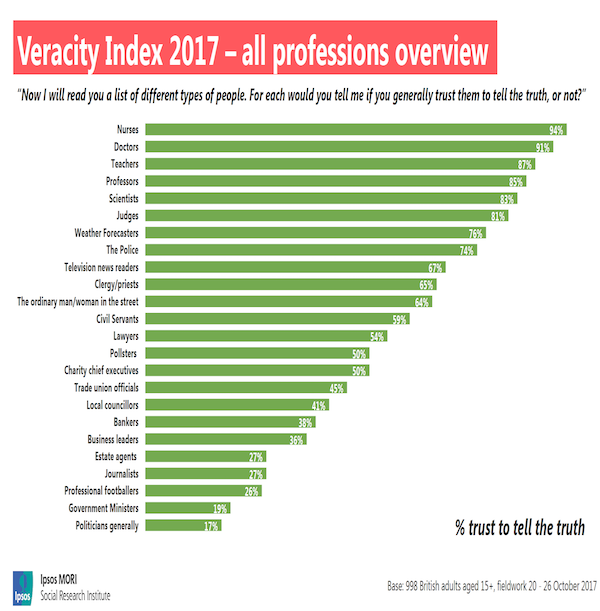 ---
Michael's Musings
Daniel Kahneman speaks about us having two systems when it comes to decision making. System one is our auto-pilot, where not much effort is needed, it makes quick decisions based on what seems like the most obvious solution. We then have system two, where decisions are made slower and are based on logic. The problem is that system two uses a lot more energy, so our default is to use system one.
When it comes to spending money, we generally take the path of least resistance, which means
system one is in charge of your purse strings.
The below graph is what then happens.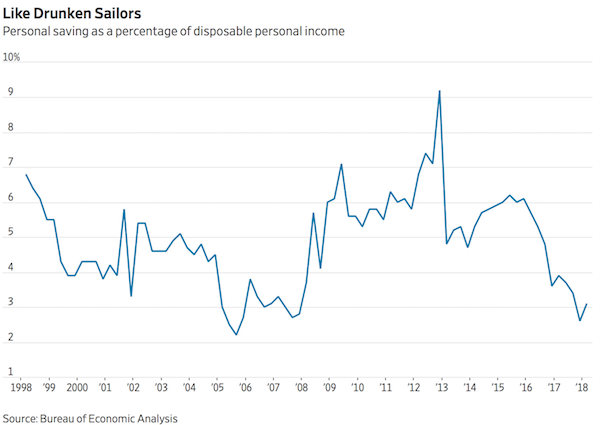 As the good times roll, we feel more secure and not much of a need to save. Then a crisis hits, we feel vulnerable, so the amount of money we save increases. Part of these savings patterns are explained by recency bias. During the good times, we think that they will continue forever because that is our recent experience. The same is true during tough times; when we are in them we think they will continue forever. Next time you are feeling strong, sit down, engage system two and plan a budget where you have monthly forced savings and investments. Then what is left over, after you have put money aside, you can let system one loose.
---
Bright's Banter
The industry most ripe to be disrupted? Groceries!
Research shows that 20% e-commerce penetration has been the tipping point
for sectors including clothing, books, sporting goods, consumer electronics, toys etc. The bottom line is that once a fifth of shoppers are online, stuff gets real for the sector.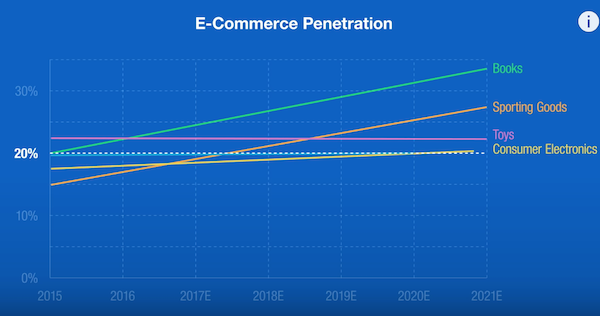 The South African market has been a slow mover, but is catching up somewhat with PnP and Woolies as two of the first movers in the space. More than 10% of South African (millennials) consumers have purchased groceries online. However,
estimates suggest that within seven to ten years, that number will reach 40%, propelling online grocery to a R250 billion or more sector.
(Source: the engaged food shopper, developing your omnichannel collaboration model - Nielsen, FMI 2018)
Grocery stores desperately need to get out of the 80s because once you fill that first basket online, you tend to only manicure around the edges. So what's happening in online grocery shopping in developed markets? Amazon's share of online grocery stands at 18% as they begin to overlay their operational expertise and with zero percent ROI hurdle; consumers are starting to see grocery prices drop dramatically.
Although in-store prices at Whole Foods are 14% higher than Kroger, Whole Foods is making an aggressive play for home-delivered food through Prime Now; which is 2% to 7% less expensive than Kroger goods delivered through Instacart. That's right, Whole Foods for less than Kroger - that's a Mercedes E-class for less than the price of a Toyota Camry.
As grocers were sitting on their hands with regard to home delivery in the U.S., Instacart filled the void and is the first result in paid and organic searches. Relative search volume for Instacart is two and a half times that of Amazon Fresh (see graph below) and more than half of the brands in the U.S, in the Digital IQ Index, partner with Instacart. These partnerships have been a great growth engine for Instacart, now valued at $4.2 billion.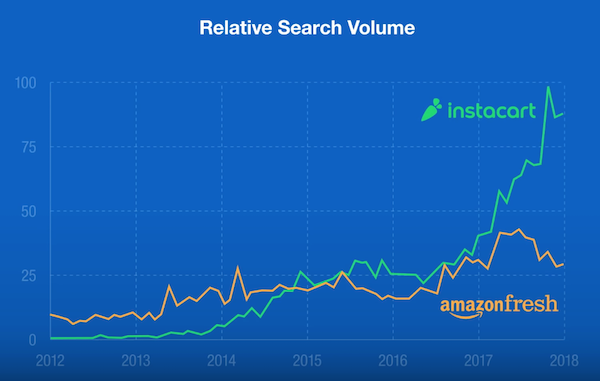 Linkfest, Lap it Up
---
This is amazing from Alphabet
, it shows how far AI has come -
Google just gave a stunning demo of Assistant making an actual phone call
. Google will now have companies lining up to be on the top of the call list.
How can a company make a loss
when more and more people and companies want to use your product? Our Post Office is not the only one making a loss -
US Postal Service gets whacked with a $1.3 billion loss as it struggles to keep up with Amazon
.
Signing off
---
Tencent and by extension Naspers, has been down the last two days in anticipation of Tencent's results after the Hong Kong market closes today. Will the Chinese giant continue its amazing rate of growth?
Sent to you by Team Vestact.