Famous Brands FY numbers - Margins down
30-MAY-17
Famous Brands released their annual results for their financial year to end February 2017. These include Gourmet Burger Kitchen, the UK burger franchise that Famous Brands bought for 1,8 billion Rand during the last financial year. They also bought a potato chip (french fries) plant, Lamberts Bay Foods for 73.5 million Rand. There was also the acquisition of half of Mexican Salsa (nearly 5 million Rand) and half of the Italian restaurant (early stages) Lupa Osteria. Other than Lamberts Bay, I have been to all of these, for some "market research". Of course there was also the purchase of 49.9 percent of "By Word of Mouth", a well known, especially around these parts, catering business.

Equally, inside of this financial year, the French bakery PAUL has been opened. And If I was skilled enough, I could throw a cricket ball there from my seat (I would have to stand up). I also happen to know pretty well the fellow in charge of the single PAUL, they are looking to expand that wonderful (no carb clever there sportslovers, it is a bakery) store. Remember that PAUL is a French bakery chain that is "global", there are bakeries in the Americas, across the Middle East and of course in Europe (115 alone in Paris and the surrounds). South Africans are VERY receptive to international brands, not too dissimilar to most foreign markets liking international brands. Provided that they are of a certain quality, they (the consumer) will come. This creates interesting opportunities for employment and skillsets in these parts that fit international norms.

Herewith a breakdown of revenues and profits from all the separate divisions, as well as reasons that profits were 100 million Rand lower (more or less) than the prior reporting period. We can get into that in a minute.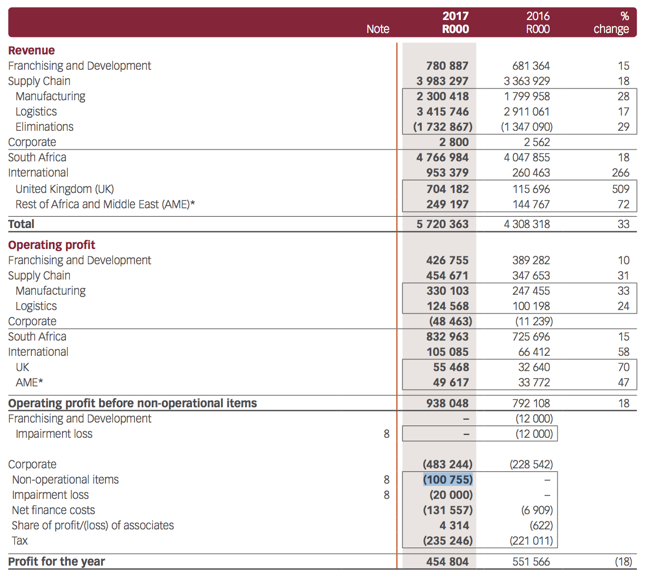 See that piece I highlighted in blue? There is a breakdown of that a little later, which relates to costs associated with getting the GBK transaction and various other transactions done, 50 million Rand in total! And then losses on the currency hedges of roughly 55 million Rand (at the half year stage it was in their favour). Equally, and not small fry, Famous Brands impaired their Nigerian asset (Mr. Bigg's, the pie company) by another 20 million Rand. It can be fair to say that Nigeria has not performed to any expectations, either for the locals or the businesses that bought into what is a huge consumer base. Two-thirds of Nigeria's 180 odd million people are UNDER the age of 30 years. There must be scope for class migration higher in the coming years.





There you see the big difference. I wonder what the value of their half is in the Mr Bigg's business and whether that will eventually be written down to nothing? Not too worry too much, of the 2782 stores, only 125 are in Nigeria. There are only 97 GBK's at the moment. The restaurants that they are opening the most of are Debonairs, they opened one a week last year. Steers and Mugg & Bean, around once a fortnight. Inside of the emerging brands, Milky Lane is being rolled out aggressively.

The business more importantly over time has taken control over production during the last few years, everything from tomato paste to fries to muffins to cheese. All big inputs where they can control the quality of the products, and more importantly, for the franchise owners not to get worried about the product delivery and stock.

Why own Famous Brands? The business is in the sweet spot of more people eating out, the entertainment choices available to consumers is heading in the direction of "experiences". Meeting your friends and family at wonderful venues, be it value for money, higher up the chain or in the "luxury" segment, i.e. Tasha's and perhaps GBK now. Mythos, Lupa Osteria and even Mexican Salsa. The business has displayed in the past strong cashflows, the suspended dividend (for now) will be reinstated when the company is happier that these debts (only 16 percent gearing) can be paid down. We like the space, we are encouraged by the results and we remain buy rated on the stock.