Amgen 1Q numbers - Reliant on blockbuster drugs
08-MAY-17
The Amgen share price has been under pressure since Friday the 13th of March this year. Well, let me rephrase that. The Amgen share price took a knock on that day as a result of a fairly innocuous release: Repatha (Evolocumab) Demonstrates Reduced Need For Apheresis In Patients With High LDL Cholesterol In Phase 3 Study. Let us just say that the outcome was not what people expected.

This has seen investors dial back their future revenue calculations (in light of expectations falling on Repatha sales), hence the price coming back to 160 odd Dollars from 180. Mind you, in the lead up to the US presidential election conclusion, Clinton being the likely candidate was going to come down heavy on these businesses. Trump himself has had a bit to say about the pricing of their therapies. The truth is that the company spends double digit amounts in revenues to come up with life saving therapies. I know first hand how emotive the decisions around these therapies can be, they deplete savings at a pace. I can understand that there is a certain responsibility of these businesses to deliver cheap life saving therapies, they cannot do that in perpetuity unless they have the early adopters.

And what that means is that having made their therapies available (which have to get through miles of tests and scrutiny before fit for consumption) to the masses, at least those covered by medical insurance or rich enough to take the therapies. It may be as simple as supply and demand, remembering that competitors and those waiting for the therapies to come off patent will benefit from the cheaper therapies. This company has nearly 4 decades of experience in biotech medicine, their current blockbusters are as per below, growing fast are Kyprolis, Repatha and Prolia.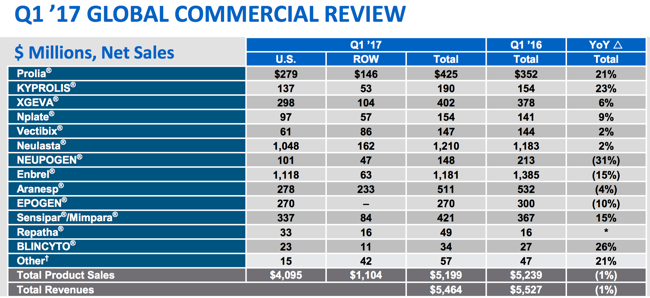 The guidance for the full year was tweaked, the noticeable difference was upgrading their guidance in non-gaap earnings per share to the range 12.00 to 12.60, 12.30 Dollars at the mid point. The previous mid point was 12.20, a marginal update. There is a good dividend underpin approaching three percent (before tax), pharma stocks are always pretty generous. We continue to accumulate at what we think is a very attractive opportunity, it is cheap and there is a good pipeline to add to existing therapies.