Nike FY numbers - growth slowed
29-JUN-16
Nike. This is a company that has just been doing it for a while now, both revenues and profits have been growing sharply, leading to a big earnings multiple expansion and with that a rapidly appreciating share price. Share holders have become used to the idea that the stock has just grown as global and in particular, North American sales have consistently been above expectations. In fact, if you visit the Investor Relations landing page of their website, there is Cristiano Ronaldo running away from the crumbling defence, some figurines exploding. And in bold letters there, it states that Nike is a growth company.

We all know that Athleisure is a "thing". Combining comfortable clothes with an athletic element allow you to work out and then walk around afterwards without feeling exposed. Or just hanging around in athletic gear, even if you are doing nothing athletic during the day. All the big manufacturers of athletic apparel and footwear have as much of a bias towards fashion as they do to functionality. I simply have to recall the old poly shorts and your beat up running shirt to know that fast forward a couple of decades and even the socks are seen as highly important fashion items, as well as being darn comfortable and of course most important, functional. Whether or not, as a casual runner, my times have improved much with all the gear is another matter entirely.

Research from Morgan Stanley (via this - The Rise of Athleisure suggests that as a category (athleisure), the market is now 270 billion Dollars per annum globally and is set to grow around 30 percent before the decade is out. There is still plenty of wriggle room for all providers, inside of the majors competition to Nike have emerged, most especially with Under Armour. Strong personalities such as Steph Curry and Andy Murray, as well as Jordan Spieth, and some other well known US athletes, like Tom Brady. Highlighting the move to all sports and casual wear is that both Misty Copeland (an extremely talented ballerina) and Giselle Bundchen are featured as Under Armour sponsored athletes. Bundchen's husband, Gridiron legend Tom Brady is also sponsored by Under Armour. First husband and wife team? In terms of teams, only Spurs (Harry Kane's team) are one of the big sponsorships.

This is a piece about Nike, not about Under Armour. In order to show how competitive it has been, that is why we spent a little time discussing a competitor. Herewith the fourth quarter and full years results 2016 released last evening. At face value the metrics all look pretty decent. I suspect there were two things that everyone focused on, one was that whilst quarterly earnings were a slim beat, the sinking in that earnings were actually flat on the comparative quarter meant that the recent share price weakness was probably justified. In other words, if you are going to own a growth company, be sure that it is a growth company.

As the company pointed out (see the table below), North American apparel sales were 2 percent lower when measured against the corresponding quarter, 8 percent higher over the year. Total sales (see at the bottom of the table) in North America make up 45.6 percent of group sales. And if those are "sluggish" as the WSJ points out (Nike Reports Sluggish North American Sales), then does the growth tag still hold true? First, here is the long and detailed table of Nike sales across all regions of the world -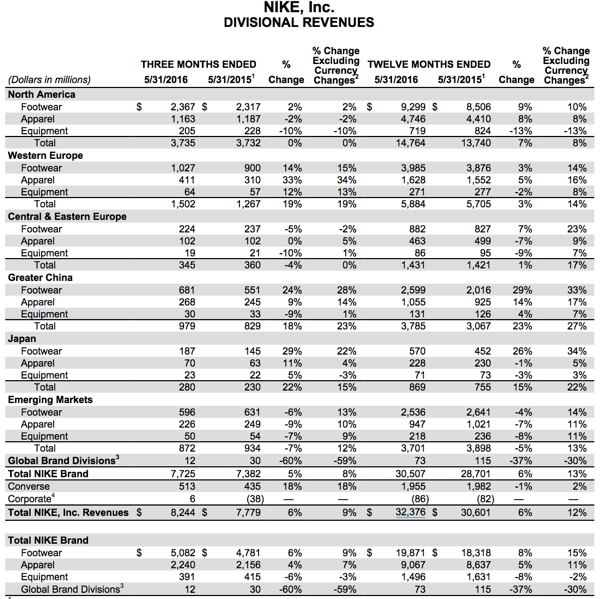 I suspect that one can answer the question about growth by pointing to the Chinese region, sales are only 11.7 percent of total sales. In order to determine whether or not the company is a "growth" business, let us throw back to the 2010 annual report. Total sales were 19 billion Dollars, they are now over 32 billion. Greater China sales back then were 1.74 billion Dollars, they are more than double now at 3.785 billion Dollars. In some parts of the world, and in particular a huge market shifting one (the next growth engine in China is largely consumer based) like China, the company is still growing like gangbusters.

I know this is pretty long, I want to however highlight why I think that the future is exceptionally bright for the whole industry and this specific company. The chief Mark Parker (not related to Spiderman) spoke about global sport participation, a move to mobile and importantly, the ability to customise your shoes and clothing, personalised "stuff".


"Participation is increasing all over the world ..... people are leading healthier, more active lives. At the same time, the rise in sport culture is bringing fitness and style together, profoundly influencing what we all wear every day. It's clear: our amplify category offense is a model that works. We're growing the business across the entire lifestyle of sports - from performance to sportswear.

And in retail ..... our industry is in the early stages of unprecedented transformation. Mobile innovation and personal services are dominating the landscape. That's why we invest in integrating digital and physical retail seamlessly, giving our consumers better access to the products they want ..... and why we're working even closer with our best wholesale partners who share our vision for the future of retail.

Manufacturing, too, is undergoing its own revolution. We're rethinking the fundamentals across our business - in how we make products ..... how fast we deliver them ..... and what kind of impact they leave behind. With other innovators like FLEX or HP, we're deploying projects across our source base to reduce costs and delivery time, improve quality, explore customization and enhance performance."
In conclusion, the stock has taken a hammering this year, it is down at 51 Dollars pre market, and now trades on a 23.6x historic multiple, which is possibly at this juncture a fair reflection.
We do however believe that the growth will return, the thesis is well intact and this may prove to be a wonderful opportunity to acquire the market leader at a much cheaper price.
Across all territories, future orders still look strong, nearly 20 percent up in mainland China.
We maintain our buy rating on the company.