Discovery's full year numbers
11-SEP-15
Discovery reported results yesterday morning, we did not attend the presentation, we did watch it on TV however. Adrian Gore is a polished presenter, he tries to crack one every now and again, he must work on his humour in the delivery. One of the things that he said that did elicit a laugh from the audience at the JSE auditorium was that the Dachshund used for advertising the Vitality product in the United Kingdom has seen the sales of that said breed of dog rise significantly. Gore queried with one of his management team whether or not one of the two dogs came from Cape Town. Go onto the Vitality UK website to see what I mean about the little dog, those avid cricket watchers would be familiar with the little dog displayed across the blimp in the recent Ashes series.

Jessica Ennis-Hill (Gold at the last Olympics for Heptathlon), Jonny Wilkinson (to England what Joel Stransky is to us) and Sebastian Coe (Gold for 1500m at 1980 and 1984 Olympics, as well as silver for 800m at both events) are the ambassadors for the health and wellness companies. Some pretty heavy hitters, Seb Coe was one of my heroes growing up, I was a bit surprised to see no gold for the 800m. In 1979, according to his Wiki profile, he broke three world records in 41 days, the 800, the 1500 and the mile. Yowsers, that is pretty impressive.

What sets Discovery apart from the other insurers, be it life, short term or medical insurance, is their focus on the customer. I know that their products are certainly not the cheapest, I know that their competitors are trying equally hard with their rewards programs. I know that you could get cheaper benefits elsewhere, I do however feel that sometimes in life you get what you pay for. I am both a shareholder and fully subscribe across these core products on the insurance. Nothing across the investment front, whilst the brand may be an excellent one, (Assets under Management crested 50 billion Rand for the first time), there are some complicated ones, upside protection sometimes screams fees to me. The brand is excellent, the company is attracting more and more from their competitors in a relatively short period of time.

New business grew like crazy, the award of the Bankmed medical Scheme (209 thousand strong) saw new business grow to 17.5 billion Rand, without that, new business as a total grew 15 percent. Normalised profits from operations was up a very impressive 17 percent, normalised profits were up 16 percent and embedded value grew 21 percent to 52 billion Rand. That is double what it was back in 2011, pretty impressive for a late entrant into the market. And Adrian Gore alluded to that in a CNBC Africa interview, he said that their job was to grow the business, regardless of the economy and competitors. They want to be the best, they want to be able to present the most compelling product to their members and consumers.

A pretty recent development and the announcement of the "Vitality Active Rewards with Apple Watch" will be launched across the Vitality network. Applications will be able to measure your patterns. Discovery is one of the very few companies that I think has used behavioural economics to monetise their business and morph their business model to be more consumer centric. As they point out, in a recent Forbes article they were ranked 17th out of 51 companies changing the world. I believe it is the case, this is a transformative business, progressing quickly with the times. Offering consumers in the UK with their whole owned business branded Vitality (the little short legged dog, remember), partnering with John Hancock in the US and Ping An in China (still making a loss), making progress.

There are some incredible slides in their presentation from yesterday, I shall capture just a few here to share, the first one is pretty self explanatory and quite simply suggests that if you are just a little active (20 minutes a few times a week), your chances of getting poor health related diseases diminish: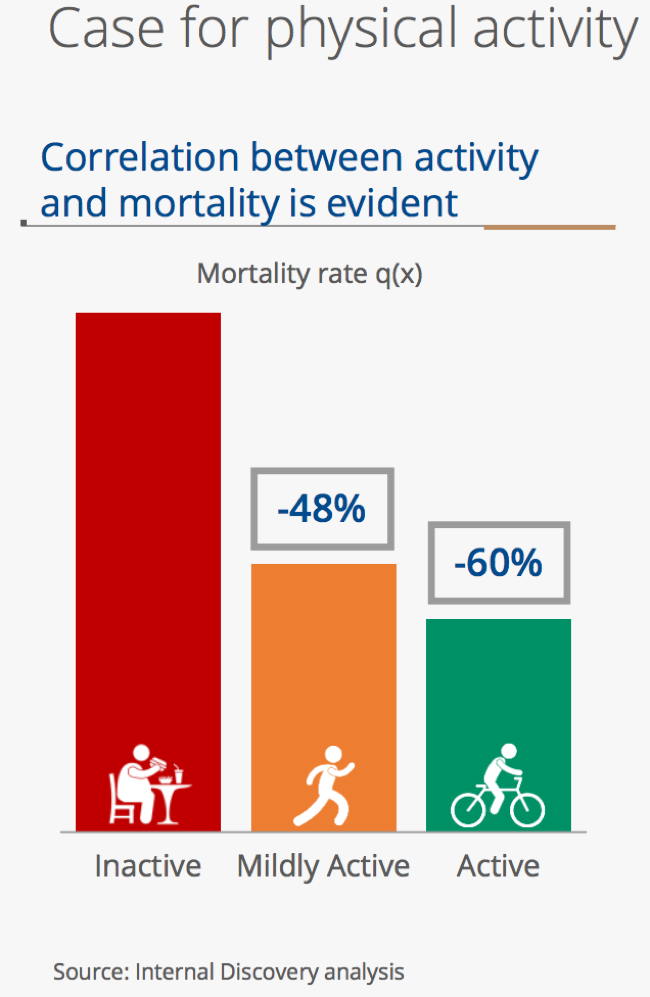 And then this one, which again is pretty self explanatory and related to the one above, quickly, go out and take the dog for a walk: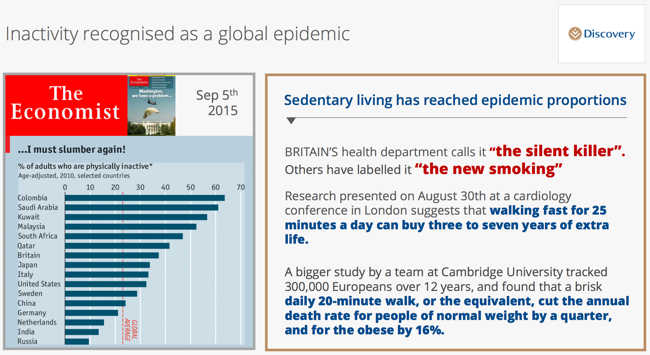 It really is in their interest to get you more healthy, more engaged and at the higher levels. Why? They then pay less out of the collective coffers for claims, check this one out: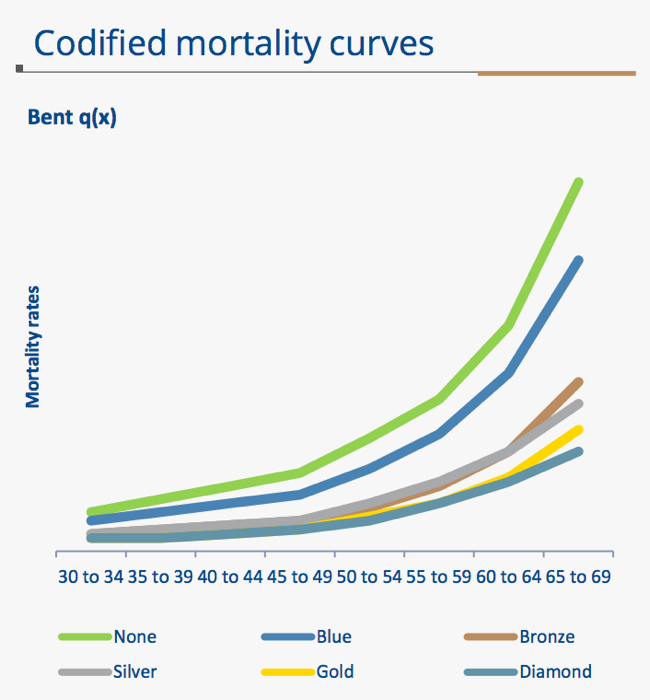 So, the better your level on Vitality, the more chance is there that you are looking after yourself, the lower the chance of you dying younger than you should. Pretty easy concept to understand isn't it? I guess it really is, people talk about their levels and rewards as if it were an achievement and I guess it really is. Being healthier, having the tests, knowing your specific level of health relative to where you should be.

We think that as well as being innovative and as well as having a dynamic management team (they look really good for their age!), it is a great investment. It suddenly looks far cheaper at any point in time. We continue to buy the company, we think that the business has fabulous growth prospects.