The Centre Of Data
26-AUG-22
Market Scorecard

---
On Thursday, US markets bounced nicely in afternoon trade and closed firmly in the green
. Stocks have now risen for two straight sessions as investors await the Fed's comments from Jackson Hole. We like overall market gains, of course, but as long-term investors what we really care about is how our individual companies perform.
Central bankers are gathered for their conference in Wyoming and will be treated to a speech from Fed Chair Jerome Powell later today. While he is expected to keep on his current path of hiking interest rates to fight inflation, there may be some wording shifts that could take some wind out of the rally.
Let's stop with that wishy-washy talk and move on to company news.
Tesla's 3-for-1 stock split took effect yesterday
, so don't be alarmed when you see your weekly statement with a sharply lower Tesla share price, this has been offset by a higher number of shares. Elsewhere, shares of Peloton plunged 18% after the pandemic-darling posted a hefty quarterly loss.
In summary, the JSE All-share was up 0.76%, the S&P 500 rose 1.41%, and the Nasdaq gained by a pleasing 1.67%.
Our 10c Worth
---
One Thing, From Paul
Today's advice is to write properly
. No spelling mistakes, bad grammar, or fuzzy prose, please. Make an effort! These days we have the benefit of spelling and syntax checkers on our computers, so there is no excuse for error-ridden writing.
The Millions is an online magazine offering coverage on books, arts, and culture, and
this wonderful article runs through some epic errors in the history of the written word
.
My favourite is the story of the manually-typeset King James Version of the Bible, issued in 1631. Unfortunately for the London print shop of Robert Barker and Martin Lucas, this edition left out one crucial word -"not."
"Their version of Exodus 20:14 read, "Thou shalt commit adultery." Their royal patron, King Charles I, was not amused. This edition came to be known as the Wicked Bible."
You will be happy to know that we go to great lengths to deliver a perfect Vestact newsletter to you, every working day. If you spot any errors, let us know. We won't think that you're a punctilious prick, I promise.

---
Byron's Beats
On Wednesday night Nvidia released second-quarter results
. We knew these numbers would be ugly because they warned us two weeks ago. I covered that special update
here
. Basically, the high demand for high-end chips from crypto miners and gamers has fallen faster than expected.
Group revenues dropped 19% versus last quarter and earnings fell 59%. Ouch! They are working incredibly hard to manage these supply chain booms and busts. This is something that many companies are dealing with post-Covid.
More importantly, data center revenues soared 61% from a year ago
. That division now makes up 57% of all sales. Businesses like AWS and Azure are buying lots of Nvidia HGX A100 chips to put into new data centers. That's the world's most powerful accelerated server platform for machine learning.
The pace of innovation is not slowing down
. At next month's GPU Technology Conference (GTC) they will announce breakthroughs in AI and the metaverse. If you believe the metaverse will be a big part of our future, Nvidia will be one of the biggest benefactors. Nvidia is currently the biggest constituent of the Metaverse ETF. I wonder how the Zuck feels about that?
We are happy to ride through the cycles that this industry faces because we feel that the products Nvidia makes are crucial for the digital future.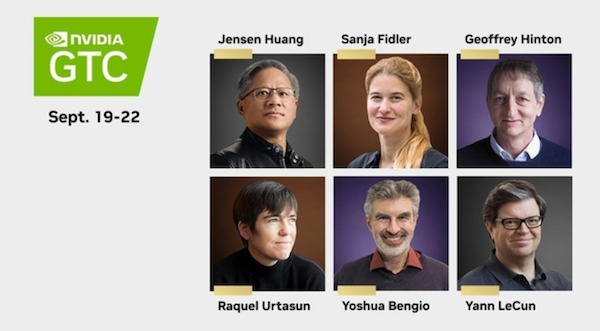 ---
Bright's Banter
Thanks Byron, I'm also writing about semiconductors today.
Nvidia and AMD have become the two main players in the GPU market
. According to the latest monthly hardware survey by Steam, the leading online store for video games, 76% of participants in the July questionnaire used a card with an Nvidia chip. Bye bye AMD!
Nvidia not only wins the graphics race by number of users, but also in terms of finances
: according to AMD's latest set of numbers, its data center and gaming segments contributed a combined $3.2 billion, while Nvidia made $7.4 billion in those two segments.
The infographic below shows Nvidia's revenue by segment in the second quarter of 2022.
You will find more infographics at
Statista
Linkfest, Lap It Up
---
A growing number of people are quitting alcohol
. Not drinking results in increased energy, better sleep, and sharper reasoning and memory -
This is your brain off booze
.
Swatch has revealed its upcoming collection with Dragon Ball Z
. The seven models feature Goku, Gohan, Vegeta, Master Roshi, Frieza, Cell, and Majin Buu -
Watch ideas for millennials
.
Signing Off
---
Asian markets are in the green this morning, hitting a one-week high, aided by a rise in technology companies in Japan and Hong Kong.
There was some good news for Chinese stocks yesterday, as US and Chinese officials made progress on a process to allow audits of companies that are dual-listed in New York. This should avert the delisting of Chinese companies on Wall Street. ADRs of Alibaba and JD.com gained 8% and 9.2%, respectively.
US equity futures are slightly lower in early trade. The Rand is trading at R16.79 to the US Dollar.
The Bokke are back this weekend, have a good one and enjoy the warm spring weather.
Sent to you by Team Vestact.