School Fees Season
11-JAN-22
Market Scorecard

---
US markets swung between gains and losses yesterday
. The S&P 500 ended the day with a small loss, posting its longest losing streak since September. The Nasdaq had a very special day, dropping by 2.7% in early trade, then rebounding heroically to finish the day in the green. Technology stocks rallied all afternoon. Lovely stuff!
In company news, game publisher Take-Two Interactive tumbled 13.1% after an announcement that it was buying mobile game developer Zynga in an $11 billion deal.
Zynga shares popped by 41% on the news
. Elsewhere, Lululemon closed down by 1.9% after the sporting apparel maker said its fourth-quarter earnings would be soft because Omicron put pressure on staff availability and supply chains.
In summary, the JSE All-share was down 0.15%, the S&P 500 lost just 0.14%, and the Nasdaq squeezed out a gain of 0.05%.
Our 10c Worth
---
One Thing, From Paul
Everyone seems concerned about rising inflation, and worrying that central banks will quickly jack up interest rates in the months ahead, thereby killing the economic recovery
. On that basis, markets have had a poor start to 2022.
Well,
my forecast right now is that inflation will abate in the months ahead, and central banks will err on the side of caution
. In other words, interest rates will rise slowly, not fast.
Take a look at the chart below. It shows how in the last 20 years, the market (as represented by the fed funds futures curves) consistently expects rates to rise faster or fall faster than they eventually do. The dotted lines show what the experts thought would happen. The red line is what actually did happen.
As usual, our advice is to keep calm. The global economy will continue to expand as Covid wanes.
Central bankers are keen to do the right thing, not get carried away
. The market will be fine.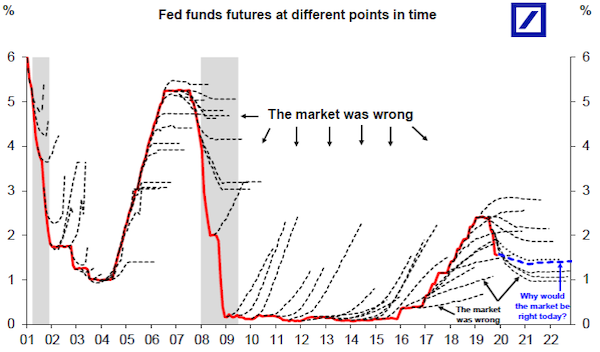 ---
Byron's Beats
As mentioned in our newsletter yesterday,
around 40% of Nasdaq-listed stocks are at 52 week lows. Yet the overall index is only 7% off all-time highs
.
Quality is standing strong.
The big hitters like Apple, Microsoft and Google have barely budged, holding up the overall market
. Due to their size, they have a huge influence on the index. More "exciting" companies like Teledoc, Peloton, Robinhood, Lemonade and Zoom have more than halved. Our portfolios have not been immune, our smaller holdings like PayPal, CrowdStrike and Illumina have taken a beating.
Loose monetary policy from the Fed usually props up stocks that are high-risk
. With inflation now a reality, the Fed is expected to tighten things up. These moments create good buying opportunities. Nothing has changed for these companies other than their share prices in most cases. They are still growing fast and many are capital-light software businesses that are not dependent on debt finance.
We are still happy buyers of our higher-risk stocks like CrowdStrike and PayPal
. These are our "future winners" and their allocations in our model portfolios are smaller. They are volatile, but have great prospects.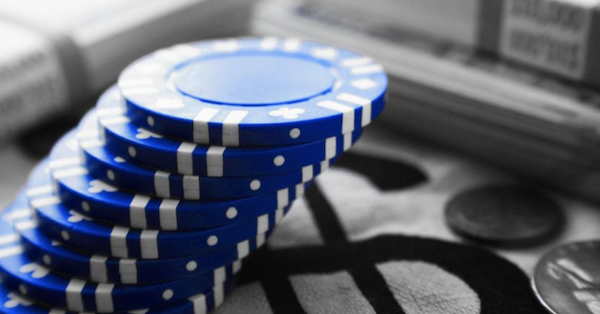 ---
Michael's Musings
Would you rather eat a plant-based meat substitute or meat tissue grown in a lab?
Meat substitutes will be a big industry in years to come because people don't like the idea of killing animals for food, or they are concerned about the environmental impact of farming.
I've eaten Beyond Meat burger patties, and they are pretty tasty. I'm not sure how healthy they are though, and they are expensive. The thought of eating something grown in a lab is a bit off-putting, but I guess that it will become more commonplace with time.
We may even get to the point of 3D printing our fillet steaks in the kitchen before putting them on the braai
.
The meat-alternative industry won't achieve its full potential until producer prices drop further. These products need to have similar selling prices to normal meat for them to be real competition.
Read more here -
The lab-grown meats are coming
.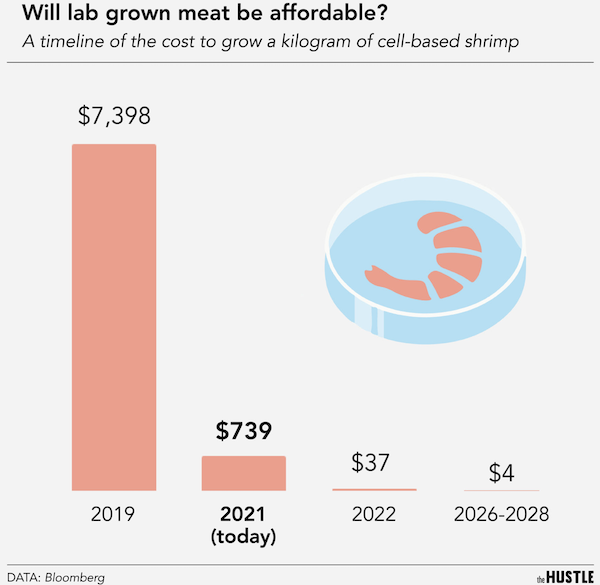 ---
Bright's Banter
Last week,
Amazon announced it was buying electric vans from Stellantis
, a company formed last year from the merger of Fiat Chrysler and PSA Group. This was a little confusing for the market since the e-commerce giant has a big stake in the newly listed Rivian Automotive, which already has a mandate to build electric vans for Amazon.
The Rivian share price dropped like a stone on the day, as the market assumed that perhaps Amazon doesn't have confidence in Rivian vans or that Rivian currently doesn't have the production capacity to meet Amazon's immediate demand, at least for the next couple of years.
Rivian is sitting on a $12 billion cash pile raised from its IPO last year
which they plan to spend on new production facilities. Just like Tesla in the early days, Rivian is chasing a big order book (including the initial 10 000 vans due to Amazon) which keeps getting bigger. But they are yet to produce the first batch of EVs.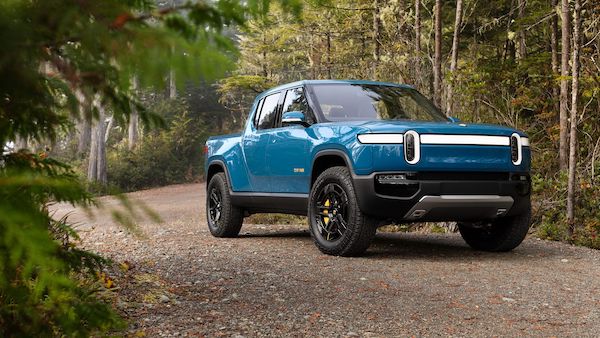 Linkfest, Lap It Up
---
Much of China's massive GDP growth in the last 50 years is due to its young, hard-working population, which also has a high savings rate
. Now a slowing birth rate means that as people age, there are fewer young people to take over -
Animated Chart: China's Ageing Population
.
Owners of the Pudgy Penguins NFTs are trying to oust their creators
. The daily average sales of NFTs are falling as token prices plunge amid a crypto winter; investors in these JPEGs are very angry -
Pudgy Penguins NFTs infighting turns ugly as crypto mania cools
.
Signing Off
---
Asian markets are mixed this morning. Hong Kong, Japan and mainland China are down but Indian markets are in the green. South Korea is little changed.
Later today, Fed Chair Jerome Powell will have his confirmation hearing for his second term, in front of the US Senate Banking Committee. Most macro traders are awaiting US inflation data out tomorrow.
US futures are very slightly lower in early. The Rand is currently trading at around R15.65 to the US Dollar. It's Tuesday, let's get it on.
Sent to you by Team Vestact.