Turkey Burnt Before Thanksgiving
24-NOV-21
Market Scorecard

---
Markets were subdued yesterday, with both local and the US indices oscillating between red and green.
The Turkish Lira lost 12% of its value against the US Dollar yesterday; it's now down over 40% since the start of the year
.
This is what happens when power-crazy politicians interfere with monetary policy. Turkish President Recep Tayyip Erdogan is a populist who has his own nutty economic theories, and last week he "encouraged" the central bank to cut rates even though inflation is at 20% per annum. Foreign investors know better and sold Turkish bonds and equities, resulting in a loss of confidence in the Lira. Every Turkish person is poorer now, in relative terms.
We are very fortunate to have an independent central bank here in South Africa, led by a man with a mind of his own, Lesetja Kganyago. Our national government and President say they are committed to leaving it that way.
There have been calls from factions within the ANC for the nationalisation of the SARB and the subjugation of our banking system. With the ANC bleeding votes, they could veer to the left and favour populist policies in future. We need to be vigilant, and campaign against such tendencies!
Yesterday the JSE All-share closed up 0.21%, the S&P 500 closed up 0.17%, and the Nasdaq closed down 0.50%.
Our 10c Worth
---
Michael's Musings
On Monday morning Prosus/Naspers released their six-month financial update
. Naspers and Prosus are effectively the same entity, so for ease of reference, I'm going to only refer to Prosus here.
To be honest, the announcement was a bit of a non-event.
The majority of Prosus's value sits in listed entities like Tencent, Delivery Hero, and Trip.com, so it is very easy to know the value of the overall company
.
As you may know, their current stake in Tencent is worth more than their own market capitalisation, making everything else a rounding error. As far as Prosus's share price is concerned, the change in the Tencent share price on Monday was far more important than this announcement.
Prosus trades at a wide discount to the aggregate value of its underlying assets. That discount has gotten wider since the complicated and expensive transaction management forced through earlier this year. It might take years, but we feel that management will find a way to significantly reduce the discount and unlock massive value. Until then,
Prosus is using the current deep discount as an opportunity to buy back as many shares as it can
.
Management estimates that the value of all their investments, other than Tencent, is $49 billion
. That's a $10 billion increase in value over the last six months. They feel that these assets could be worth $100 billion by the end of 2025, which would make them more relevant compared to the Tencent stake which is currently worth $176 billion. Prosus has a market cap of around $174 billion.
Thanks to a growing Tencent dividend and the cash-positive classifieds business, Prosus has been able to invest heavily in new companies and to allow some of their emerging businesses to run at bigger losses. The losses are acceptable as long as there is strong revenue growth, which is what we are seeing.
Prosus is still all about the moves in Tencent, but hopefully, in a few years, Tencent will be a much smaller part of the overall operation
.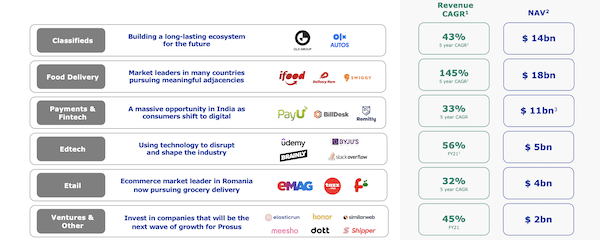 ---
One Thing, From Paul
Do you own assets that generate passive income and appreciate while you sleep
? That's a good sign. Well, of course you do: your Vestact portfolio.
Here's another fun example of an asset that generates passive income year-after-year:
Mariah Carey's rights to royalties from her songs that play at Christmastime
.
She earns big money from that earworm, sorry, lovely song "All I Want for Christmas is You". It was released in 1994, which is 27 years ago. Every year at this time it rockets back up the charts on radio stations and on streaming sites. It's also used in many commercials and promotions.
According to MRC Data, a provider of analytics to the music business, every time the tune is played, Mariah Carey makes at least 1 US cent. They reckon that
she made around $1.9 million from streams alone in 2020 and $1.7 million in 2019
. She's on track to make more than that this year. Well done to her!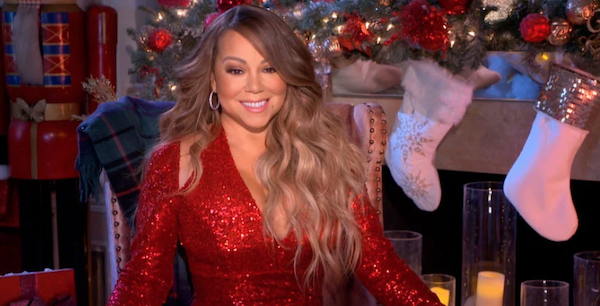 ---
Byron's Beats
Charlie Bilello from Compound Capital pointed out that
the ratio of the value of the tech sector to the broad S&P 500 has reached its highest level since October 2000
. Back then, I was trying to survive my first year of boarding school and the only way to contact my folks was with a R20 phone card that slotted into a communal payphone in the quad. We've all come a long way since then.
The tech sector reached nearly 50% of the overall market value during the dot com boom
. That was a fun time that ended in tears, but the internet technology invented then did change our lives. Tech companies have made huge amounts of money since then, but it took a lot longer for them to dominate the modern economy as they do today.
Is it a worry that the relative value of the tech index is back at October 2000 levels?
Not at all. In fact, I am surprised it's not higher. Almost every facet of our lives has been digitised and is changing fast, from healthcare to the office. I am sure that the 50% ratio will be breached in the not too distant future.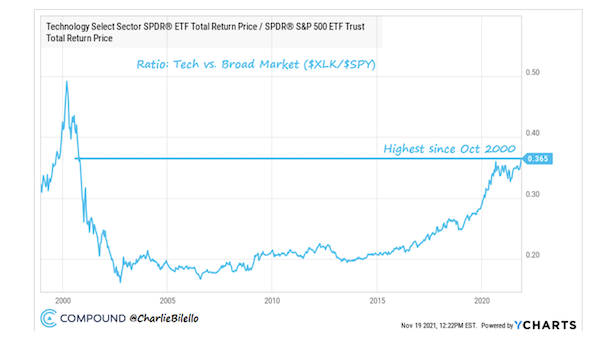 Linkfest, Lap It Up
---
Takealot is known for overusing the term "discount" and overstating the savings on listed products
. Here's a great website that shows the price of a Takealot product over time, so you can see just how bold the offer is -
Welcome to Serval, the Takealot price tracker
.
Is the Earth about to be hit by an asteroid, or have we all been watching too many movies
? Nasa is doing a test to see if crashing a heavy object into an asteroid can deflect it off its path -
NASA's launching a mission to crash something into an asteroid
.
Signing Off
---
Asian markets are up this morning, other than the Nikkei in Tokyo. New Zealand's currency sank after the nation raised interest rates to 0.75% to curb price pressures, a smaller move than some had expected.
US futures have just popped into positive territory. Importantly, the Nasdaq is pointing to a higher open later today. This afternoon we will get an updated US GDP read and the minutes from the latest Fed meeting.
The Rand is currently trading at $/R 15.83. Not great, but it could be worse. At least we are not Turkey.
Sent to you by Team Vestact.