Get Some FaceTime
10-JUN-21
Market Scorecard

---
Yesterday, US markets teetered around record territory before ending the session lower
. Losses came from the financial, industrial and consumer sectors. Traders are trying to balance their confidence in economic reopening against supply chain problems, the possibility of increased taxes and potential rising inflation.
In company news, the new darlings of the meme stock craze are the fast-food restaurant chain Wendy's and natural gas company Clean Energy Fuels. My prediction is that none of these companies will draw the same interest from the general public the same way GameStop did at the beginning of the year.
Yesterday the JSE All-share closed up 0.05%, the S&P 500 closed down 0.18%, and the Nasdaq closed down 0.09%.
Our 10c Worth
---
Byron's Beats
We often get asked if we have access to other exchanges outside of South Africa and the US
. The short answer is no. We like to call ourselves a restaurant with only two items on the menu. Actually of late, we have been encouraging all fresh funds to go to the US.
But why the US you may ask
? Take a look at the picture below from Visual Capitalist, showing the top 20 stock markets by market cap. South Africa does well to squeak in there at 20th spot. The top two are the NYSE and The Nasdaq, both US based stock markets. Between them they have $45.3 trillion in market cap.
I have nothing against the other markets, South Africa included. I just feel
the US market is unmatched in quality and choice
. Plus, many of the businesses are global and operate in every region imaginable.
At the same time most of the big European and Asian stocks have listings in the US. For quality equity options, look no further than the US.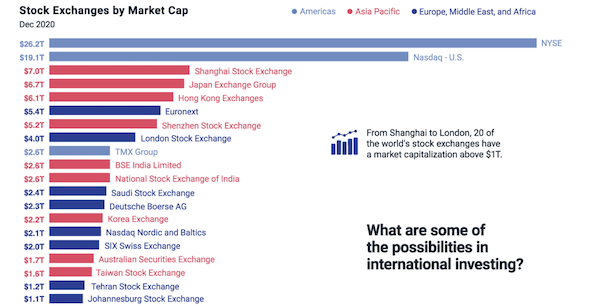 ---
Michael's Musings
Part of the Vestact investment philosophy is to invest in industry-leading companies.
We want to own the best companies in fast-growing sectors and are willing to pay a premium to own them
. Someone else can own the company trailing a distant third and trading at a discount.
Why would we want to pay a premium for an industry leader though?
Like most things in life, you need to pay up for quality, investing is no different
. I think there are two good reasons why the best companies continue to stay the best. They have a strong brand and are staffed by A team players.
Anyone who works in sales will tell you the importance of a strong brand.
Customers are willing to pay more for a product if they know and trust the brand already
. Building a strong brand is a long and slow process, so having an established one is a hugely valuable asset. It creates a moat between the market leader and the chasing pack.
Following on from Paul's piece yesterday, the best companies also employ the best people.
When someone like Amazon goes on a recruitment drive, they can hire all the A team players
. People want to work at fast-growing innovative companies for excitement, prestige, and financial rewards.
Having a solid brand being guided by an A team allows the market leader to stay ahead of the competition.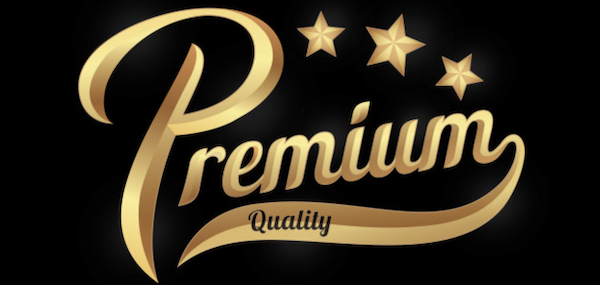 ---
Bright's Banter
Apple is currently hosting its second virtual Worldwide Developer Conference which runs through until Friday
. Below are some of the biggest changes coming to your Apple device with a new software update being released by the third quarter of the year.
Apple unveiled its iOS15 software update on Monday
with some epic upgrades to FaceTime, iMessage, Photos and more. My personal favourite so far is SharePlay which allows you to watch videos or listen to music together on FaceTime.
FaceTime will be open for cross-platform use
, meaning individuals who use Android and Windows devices can enjoy what used to be exclusive to Apple users. FaceTime is coming for Skype and Facebook Messenger.
Below is an infographic comparing FaceTime to other VideoChat apps in North America.
You will find more infographics at
Statista
Linkfest, Lap It Up
---
Combatting climate changewill require many different approaches
. This Scottish startup is experimenting with using crushed rocks to help capture CO2 -
This company is crushing rocks and fighting climate change
.
Britain's energy regulator has approved a GBP300 million investment to help triple the number of ultra-fast electric car charge points across the country
. This is part of efforts to accelerate the UK's shift to clean energy -
Britain's electric car charging network boosted by 300 million British pound funding
.
Signing Off
---
Traders will be waiting to see the outcome of US inflation numbers out this afternoon. This could set the tone for future monetary policy decisions.
Asian markets are mostly in the green this morning thanks to the US-China commerce ministers agreeing to push forward with trade and investment links. The Rand is trading at R13.74 to the Dollar.
Sent to you by Team Vestact.