Retail on Sale
18-JAN-19
Market Scorecard

---
Markets globally are on the up today after rumours of further thawing of relations between the US and China. On the local front, after Woolies and Mr Price announced disappointing Christmas season sales, the retail index ended down 5% yesterday. Good news for consumers though, is that the SARB left interest rates unchanged. Even better news is that the SARB thinks inflation will move lower throughout this year. Lower inflation means less pressure to increase interest rates.
News started to filter through yesterday that the founder of Vanguard and the father of index funds, Jack Bogle had died at the age of 89. The FT this morning says that the passive investing industry currently has around $10 trillion dollars in it, and it can all be traced back to Jacks idea. That is an amazing legacy to leave behind, particularly because it is your ordinary man on the street that benefited the most. I think Cliff Asness said it best,
"Put simply, no single person has ever done more for investors while asking less for himself. Nobody comes within a mile. We won't see his like again."
Yesterday the JSE All-share closed down 0.65%, the S&P 500 closed up 0.76%, and the Nasdaq closed up 0.71%.
Company Corner
---
Byron's Beats
Last night Netflix reported their 4Q and full year numbers
. Let's deal with the quarterly figures versus consensus first and then talk about how 2018 was for the company.
Revenue was in line with expectations of $4.19bn, a 27.4% increase. Total net adds were 11.36 million, crushing expectations. Remember I mentioned that Goldman Sach's estimations were for 10.2mn adds and the general consensus was for 9.4mn adds?
Content spend is still huge, but they have found a direct correlation with content spend and added subscribers. The better the content, the more Netflix becomes a priority in homes, especially as series and films go viral. Apparently Bird Box reached 80 million homes.
Who needs to go to the movies these days
when you can watch the latest releases on a quality HD TV in the comfort of your own home.
2018 was a good year for Netflix
. Take a look at the whopping subscriber growth they had in the year. Netflix films and tv shows picked up 5 Golden Globe wins.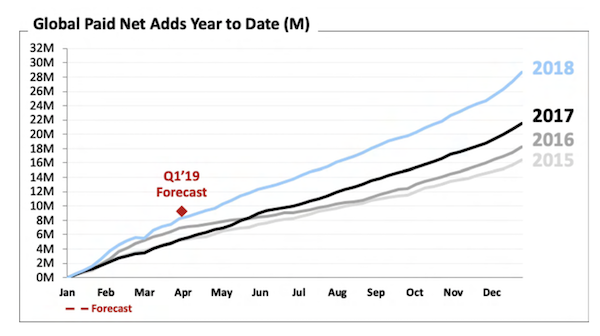 Competition for eyes is rife
. In the US they still only have about 10% of TV screen time and even less than that of mobile screen time. Here was some interesting commentary from the release.
"We compete with (and lose to) Fortnite more than HBO. When YouTube went down globally for a few minutes in October, our viewing and signups spiked for that time. There are thousands of competitors in this highly fragmented market vying to entertain consumers and low barriers to entry for those with great experiences. Our growth is based on how good our experience is, compared to all the other screen time experiences from which consumers choose. Our focus is not on Disney, Amazon or others, but on how we can improve our experience for our members."
I must say, that sounds like a very good attitude and so far the aggressive push towards content creation has kept them ahead of the pack.
The share price slumped 3.5% after hours
. Margins were below expectations because of the high content spend and that has investors slightly worried. Not that worried though, the stock is up 35% this year. And just 2 days ago it surged higher because Netflix announced a 13% price hike in some regions. That is the beauty of the model, the service is cheap and the subscribers are sticky. We continue to buy the stock for clients.
Our 10c Worth
---
One thing, from Paul
Local retailers are reporting sales numbers for the all-important fourth quarter of the year, when their sales and profits peak
. It's a mixed bag so far, with some winners and some losers. Selling clothes is a tricky business, I suppose.
The
character of retail malls is changing, reflecting the evolving tastes of well-off consumers and the slow drift to more online shopping
. Mom-and-pop shops selling clothing, books, magazines and hardware can't really compete with the big-box giants.
Those shops are being replaced by stores which offer services which can't easily be replicated online
, according to a study of mall trends in the US. For example, pet grooming, cosmetics stores, coffee shops, tattoo parlours and gyms. See the chart here, which visualises the 27 year period back to 1990.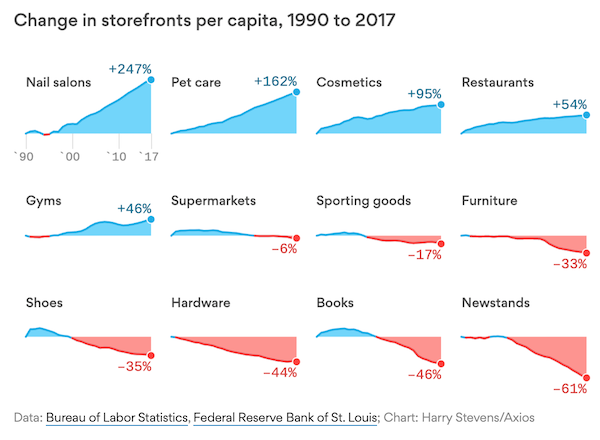 ---
Michael's Musings
One of the lessons that I clearly remember from my university days, is the challenge businesses face in setting the correct price. If you price it too high, only a handful of people will buy it. If you price it too low, many people will buy it but you won't be making any money. The trick is to find that balance.
What if you could sell the same product at different prices though? The dream is to sell a product at a higher price for those less price-sensitive customers, and at a lower price for those keeping an eye on their spending. It seems that Uber Eats has helped restaurants do this -
Food is up to 32% more expensive on Uber Eats and Mr D than in-store, and that's before delivery fees
.
If you are ordering food off of the Uber Eats app, you are automatically conveying the information that convenience is more important to you than price. Restaurants are taking advantage of this ability to segregate their customers. These higher prices on the app should encourage more restaurants to sign up, meaning the non-price sensitive customer now gets more choice.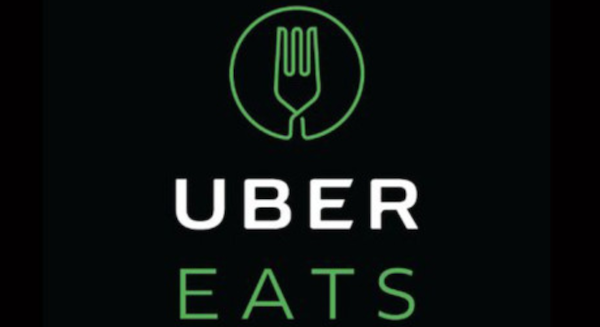 *After writing the above piece yesterday, Business Insider had a follow up article this morning - Uber Eats and Mr D Food charge restaurants up to 30% commission - but ask them not to charge more
Linkfest, Lap it Up
---
Imagine not receiving a $60 million bonus
, but still taking home around R1 billion in compensation -
Disney CEO Misses Out on $60 Million Bonus, But Still Collects Record Payday
Elon Musks' hard work
of drastically increasing the production of the model 3 is paying off.
You will find more infographics at
Statista
Vestact Out and About
---
This week on Blunders
: Top email tips for 2019; best item at the CES in Las Vegas is a smart toilet; Woolies snatches baby carrier; and a very large bucket of Mac 'n Cheese -
Blunders - Episode 129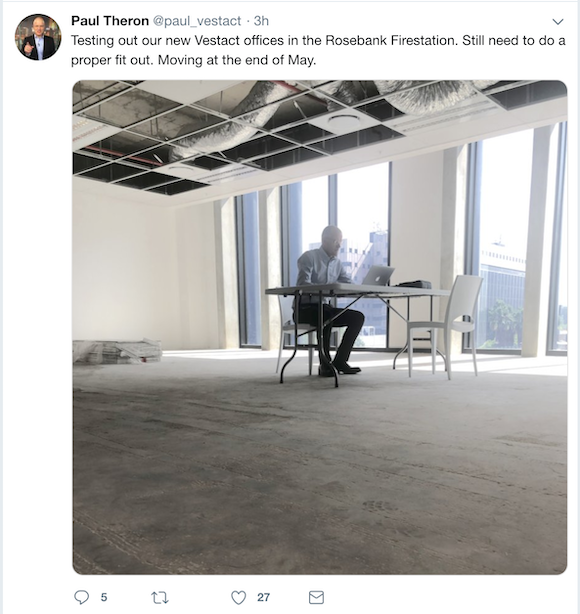 Signing off
---
The JSE All-share is higher this morning, following the positive mood from global markets. It is a rather quiet data day, the only thing of note is UK retail sales, which are forecast to be lower than the previous quarter. Good luck to the Proteas tomorrow. We are only a few months away from 30 May, when South Africa and England open the next Cricket World Cup.
Sent to you by Team Vestact.