Labour Union Eclipse
13-MAR-18
To market to market to buy a fat pig. Today, after much delay, Eskom should be signing agreements to give the go-ahead for 27 projects from Independent Power Producers (IPP). Does this mean the costly nuclear power program, that we can not afford and that will be out of date before even generating a megawatt of power, is now permanently shelved? Let's hope so.

Apart from securing our energy future, these projects will be a boost for jobs, as this Business Day article points out - Energy sector set to get R56bn investment boost.


"The projects would provide 61,600 full-time jobs, mostly during plant construction, with 59% being created in the Northern Cape, 15% in Eastern Cape and 13% in the North West."
Sticking with Eskom but shifting to demand metrics, if global trends are anything to go on, they could have a problem selling all the electricity produced;
After rising for 100 years, electricity demand is flat. Utilities are freaking out.
As a South African, the amount of debt on Eskom's books is worrying, especially given that their customers are doing their utmost to not buy electricity. It is only a matter of time until most houses have Tesla Solar Roof's coupled with the Tesla power-wall, and the manufacturing industry builds factories that are energy neutral.
Looking at the developed world, the West Coast of the US has the problem where they are producing too much solar energy -
California is taking a cooling off period after generating too much energy from the sun
. I suppose that they need to wait for either electricity consumption to increase or for the older power stations to reach their end of life?
I (Michael) wrote the above yesterday afternoon. Around 30-minutes ago, I came across the news that the deals will not be signed today -
Union blocks signing of government deals with IPPs
. Here is the reason that was given by Numsa for blocking the signing of the deal:
"Numsa believes that the signing of these contracts would be detrimental for the working class of Mpumalanga and the country as a whole. The signing of the IPP means that Eskom will require less coal-fired electricity. This is likely to lead to the closure of the coal-fired power plants and the impact will be that at least 30,000 working class families will suffer because of job losses,"
I guess Numsa is taking the stance that one paying member today is worth more than the potential two members tomorrow, which would result from the signing of the IPP. And they need to look after their own significance. The matter will be heard in court on the 27 March, when hopefully we can put the whole debate to rest.
Market Scorecard: Yesterday the JSE All-share closed up 0.04%, the Dow closed down 0.62%, the S&P 500 closed down 0.13%, and the Nasdaq closed up 0.36%.
Company Corner
Byron's Beats
Towards the end of last week Aspen released their 6-month results for the period ending 31 December 2017
. As expected from the trading update, the growth in earnings looked solid. Revenues grew by 11%, and headline earnings grew by 26%. The below table shows the businesses product breakdown by revenue. The pie graph below then shows the product mix by region.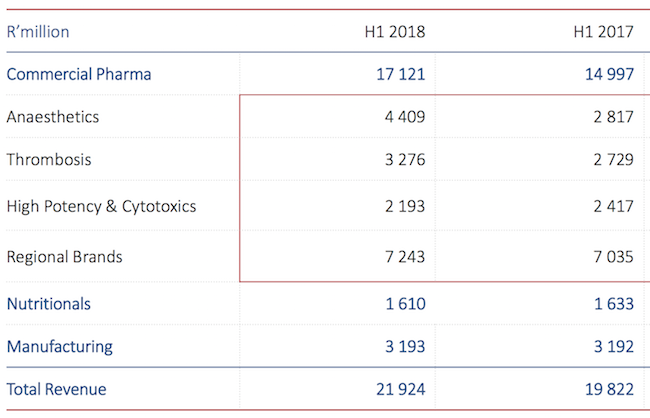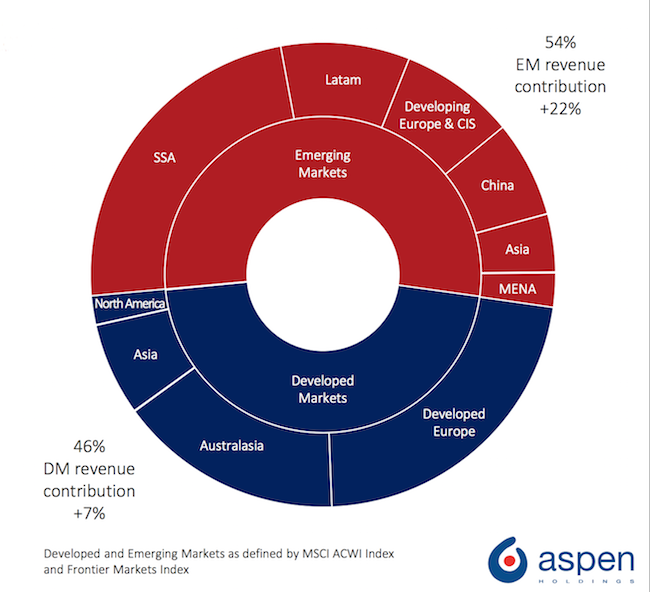 There is still a lot of hard work being done to integrate recent acquisitions. You can see this within the divisions.
Anaesthetics
for example grew by 59% to become a major contributor. This was because the AstraZeneca deal had now been fully integrated for the first time.
Regional Brands
, which is basically the old business, pre-2013, now only accounts for one-third of sales. Although revenues for the division were up 4%, there were lots of moving parts. For example their ARV tender has doubled from this period last year due to bottlenecks experienced last year. Mybulen, which is Aspen's version of Myprodol, has been stealing solid market share. That resulted in Aspen's OTC division in Southern Africa growing 38% for the period.
Nutritionals
were relatively flat. That business is in transition as they push their new and approved brand; Alula. There are high expectations for this business as well as a potential collaboration with a big a distributor.
Borrowings increased to R43bn from R35.5bn. This sits at 3.6 x EBITA which remains manageable for a business with good margins and solid cash flows. Normalised headline earnings per share came in at R8.42.
We think these are a good set of numbers as the 5-year plan to internationalise this business comes together
. Trading at 15 time forward earnings, the share price is still offering value. Recent rumours of more short interest has put pressure on the share price. You should ignore the short term noise.
---
Linkfest, lap it up
One thing, from Paul
The average lifespan of an Apple device is rising, and is now around 17 months
.
Horace Dediu's brilliant blog Asymco, analysed the data and found that currently about 2 out of 3 Apple devices ever sold are still active on the network. Note that this includes Macs, iPhones, iPads, Apple Watches and iPod touch.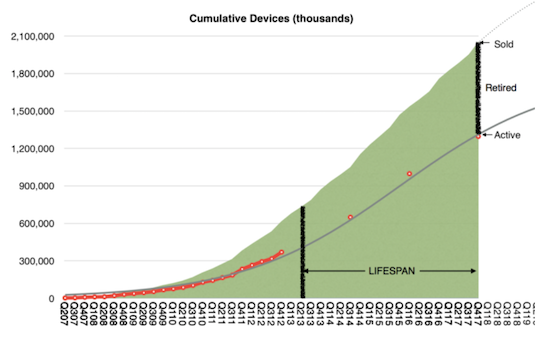 Some may feel that a slower upgrade cycle is a bad thing, and will depress future sales of the latest models? However, as Dediu argues, it's a positive sign, indicating that the devices are resilient and that customers are satisfied and loyal. Of course, Apple benefits from a larger community of app store users. Sales of Music and iCloud services are rising.
Apple shares are trading at their all-time highs. The stock closed at $181.72 last night in New York
.
Read the article here:
Asymco: Determining The Average Apple Device Lifespan
---
Michael's Musings
Spotify went live in South Africa yesterday
, their algorithms used in determining what music to play to you are amazing -
Spotify launched in South Africa at R60/month
. If you are not an Apple Music subscriber, give Spotify a try.
This is an amazing story
, a bottle thrown overboard in 1186 was found on a beach in January -
Oldest Message in a Bottle Found
.
---
Bright's Banter
The year 2017 was a good year for global markets. In the U.S. the S&P 500 was up 19.4%. You would think this would make it hard for active investors to lose money since the tide is rising right? Well not so fast.
21 percent of hedge funds covered by Hedge Fund Research (HFR) lost money in 2017, according to HFR. The funny thing is that there was no common factor in their losses, they all employed different investment strategies, and yet all of those strategies managed to lose them and their client's lots of money.
The only common factor I could pick up from these guys is that the majority of them are market bears, chicken little "the world is ending" type money managers.
Who Could Lose Money In 2017? These Hedge Funds Found A Way
---
Vestact in the Media
Team Vestact
got a mention in the Business Day market wrap yesterday -
JSE little changed as Dow retreats on trade-war fears
.
---
Home again, home again, jiggety-jog.
Apple closed at a new record high last night, the 'magical share price' for the company to break the $1 trillion mark is $197.08. It closed at $181.72 last night, not far now. On the data front, the US releases their February CPI read. Given how much attention has been given to central banks and rising interest rates, these numbers will carry more weight than in months gone by.
---
Sent to you by Team Vestact.