Correcting the Correction
13-FEB-18
To market to market to buy a fat pig. This week marks the start of the biggest human migration of the year, the Chinese New Year. It is estimated that around 710 million people will be on the move! The holiday starts on Thursday and will last all the way through to next week Wednesday. Here are some interesting facts about the tradition - 21 Things You Didn't Know About Chinese New Year.

To give you an idea of the scale of this holiday, Statista has compared the numbers to the US's Thanksgiving weekend - How Chinese New Year Compares With Thanksgiving


You will find more infographics at Statista

Market Scorecard. It wasn't smooth sailing yesterday, but at least we finished in the green. The US market opened around 1% higher, then weakened to be flat an hour into trading. From there it was a steady rise to 2.3% higher, and finally finished off with a slight weakening. The action during the day shows that volatility is back; the bull and bear tussle continues. The Dow was up by 1.70%, the S&P 500 was up by 1.39%, the Nasdaq was up by 1.56%, and the All-share was up by 0.54%. Resilient was in the firing line again yesterday, down 7.42%. I can't say what the fair value of the company is, looking at the price action though I think that this is a case of sell first, ask questions later. Short-term the price is being driven by fear, long term though it will all come down to fundamentals.


---
Company Corner
Byron's Beats
It has been a tough few years for Woolworths
. Their purchase of David Jones has not gone as planned. The global clothing retail market has been turned on its head by super fast retailers like Zara and online disrupters. The initial David Jones purchase was to access the Australian clothing market, but it seems that the strategy has also shifted to food more recently.
The Woolworths team have found a gap in that market for high-end grocers
. It seems this gap also occurs in New Zealand. The following article talks about the new David Jones store in Aukland, how the business is growing its presence online and how they are opening standalone David Jones grocery stores. It is an interesting article from an Australian publication/perspective.
David Jones expands to New Zealand as commitment to food strategy stays strong.
---
Linkfest, lap it up
One thing, from Paul
Coverage of last week's stock-market mini-selloff was pretty excitable. One thing I have noticed over the years is that the
prices move, and the explanation follows later
. In other words, the market indices spike or tank, and then financial journalists scramble around finding reasons to explain the move.
To be fair, the news media has its own challenges. They operate in a competitive market for ears and eyeballs, so they like to crank it up a bit. Here's a good cartoon which makes that point, that's been circulating in the last few days.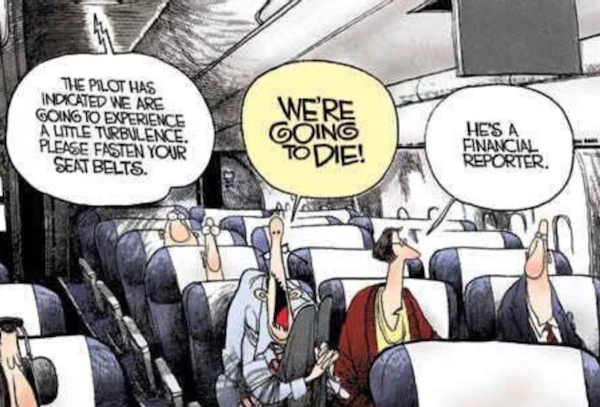 ---
Michael's Musings
As I write more, I have become aware of subtle (sometimes not so subtle) grammatical improvements I can make
. I only learnt about the Oxford comma last year, lucky my ignorance didn't cost Vestact millions! -
A lawsuit over the absence of an Oxford comma was settled for $5 million
.
One of the best ways to combat poverty
is quality education. It was interesting to see that the entrance exam to the one school was a blind test, so that any biases around the person or their family would not form part of the admittance decision -
Russian Billionaires Are Building Mega schools to Rival Eton and Exeter
.
---
Bright's Banter
According to a research firm called Canalys, 2017 was a year to remember for the Apple Watch. It had the best quarter ever in the history of all luxury watches. The company shipped around 8 million watches between the first day of October to the last day of December which led to a total of more than 18 million Apple Watch units sold for the year! This is more than the entire Swiss watch industry combined!
You will find more infographics at
Statista
---
Home again, home again, jiggety-jog.
Our market is following the lead of the US and Asian stocks, the All-share is currently up 1.2%. Relevant data out today is; UK unemployment and CPI, and locally we have unemployment figures at 11:30 and then the ANC NEC has their press briefing at 14:00. Whatever happens, we need to remember that change is slow, even if the market's default reaction is to assume all the wrongs will be righted.
---
Sent to you by Team Vestact.