Whole Foods Ripe for the Picking
19-JUN-17
"And then the biggest news of the day! The biggest news of the week! And in the history of Amazon, the biggest ever acquisition ...... ever! As per the press release - Amazon to Acquire Whole Foods Market"


---
To market to market to buy a fat pig
It used to take months to write another verse of one of my favourite Billy Joel tracks "We didn't start the fire". Do you know that track is nearly 30 years old? It was nominated for track of the year at the Grammy awards in 1990, losing to Bette Middler's "Wind Beneath My Wings". Did you know that Bette Middler won the year after that too, for "From a Distance"? Pretty incredible, right? More recently British artists have dominated that category, Adele, Ed Sheeran and Sam Smith have won the best song. Nowadays, you can add a verse to the Billy Joel song in around 20 minutes, thanks to the information overload that we get from all quarters. It is becoming an increasingly important skill to be able to determine what information you "need" and what information is classified as "nice to know".
For instance, in the world of blog/vlog and internet subscriptions, both paid and "free" (nothing is for free, it costs somebody time to write and it is your time to read) emails can end up in your mailbox with great frequency. For instance, how very important is it to our holdings that the Brexit negotiations begin today? At some level, very important. At another, not at all in the longer term. Will Britons end up with a raw deal and retract from the world, reversing some levels of globalisation?
My sense is that the talks will be a watered down approach of what the hard liners expected to achieve. For one, you cannot stop the transfer of skills to where they are needed. The internet is one of the greatest levellers known to mankind, I cannot think of another tool in any era that allowed the transfer of knowledge to all that had a simple handset and an internet connection. Global poverty has reduced across the globe, it may still be unacceptably high, we have made great strides -
Percent of population living on less than $1.90 a day
. Partly due to the transfer of the manufacture of goods to regions where wages are cheaper. Whilst many may suggest that manufacturing jobs are lost in country x or y, they often miss the fact that far cheaper goods are available to their citizens, thus enabling them to spend money on other goods and services, thereby creating new jobs there.
Last little snippet on the subject of too much information.
Twitter is a customisable news feed
, in which you can get notifications on your smartphone on what Elon Musk tweets or Katy Perry. And whilst
Musk may be on a mission to colonise Mars and change the energy consumption landscape
, see -
The End of Diesel
and
Solar Power Will Kill Coal Faster Than You Think
and
U.S. Reports a Major Milestone in Wind and Solar Power
).
It turns out that Twitter cares less about that than Katy Perry. See here -
Katy Perry Roared Her Way to 100 Million Followers on Twitter
. What does that tell you about Human nature? We care less about what we can change, we care more about celebs we will never meet. Funny the way it all works.
---
Session end here Thursday afternoon (yay for long weekends that actually have a day that blends into or from the weekend), ahead of a very important tipping day celebrated in South African history, we closed over a percent and one-quarter lower. The all share index is now flat year to date and over a three year period (36 months) we are down nearly a percent. That is right, 36 months of equity markets in Rand terms going nowhere.
Resource stocks sank over two percent
, the department of mineral resources released a paper titled
Broad-based black socio-economic empowerment charter for the South African mining and minerals industry, 2017
. Click on the link and follow it. I read through it. The Chamber does not like it -
Chamber of Mines rejects unilateral imposition of the DMR's charter on the Industry
.
Where it ends up for the time being, I am not too sure.
It seems that unfortunately the relationship between the chamber and the department is bad, 24 hours notice for a meeting on which you have not seen the content is not exactly "good faith". Too much distrust and what it means ultimately is that there is likely to be less exploration and spend, and by extension less mineral extraction. Mining is a tough, tough business. If it were so easy, you would see multiple participants who flipped houses!
Session end Amplats was down 7 and one-fifth of a percent, AngloGold Ashanti fell 6 percent, Anglo American fell nearly five percent, whilst many a ZA inc. stock sank in sympathy, Capitec down three and two-thirds, Sanlam and Discovery down heavily too. In the positive column were the likes of Reinet, BATS and Richemont, as well as AB InBev and Intu. Rand hedges you see, the currency fell sharply in the afternoon part of the session
---
Across the seas and oceans, stocks ended Friday mixed. The nerds of NASDAQ closed lower, down nearly a quarter of a percent on the session, down 1 percent for the week. The Dow Jones Industrial Average added one-tenth of a percent, thanks to strong moves in the energy stocks. Care to "call" the short term movement of the oil price? Yes/No? The broader market S&P eked out a small gain on the day, flat on the week. I read somewhere that someone said the S&P 500 had reached their "average annual return". I suspect that means that with a 8.4 percent year to date return, that may (or may not) mean something. I suspect not. It is very rare for the market to actually run returns at the "average" rate, see the graph (
courtesy of macrotrends
):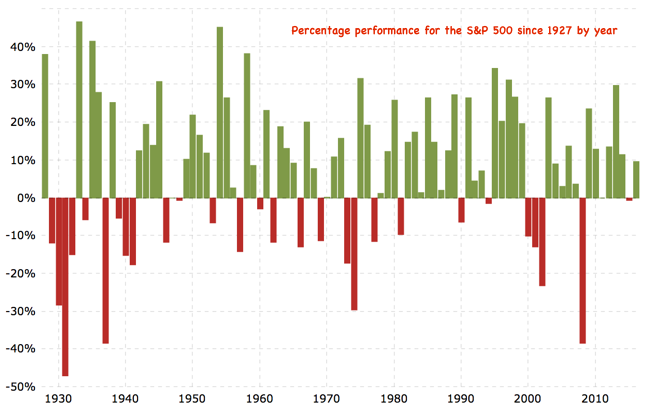 And to think that most investors spend most of their time worrying about the market selling off, whereas you can see, it is incredibly rare to see a sell off of over twenty percent inside (and extended to) a calendar year. The BusinessInsider once had (and I found it) a great graphical representation of the sell off during a year compared to where the year ended up. i.e., what the below represents is where the year ended up for the broader market, relative to the worst point during that year for stocks.
To borrow a phrase from Mr T.
"I pity the fool that sold in the slump of 1987".
That particular year saw the S&P 500 sell off 34 percent at the worst point. For the year, if you had held from January to December, the index ended the year up 2 percent. When you talk of equity markets and the year 1987, all you think about is the worst year ever ...... it turns out that our reality needs to be updated (
Big, scary stock market sell-offs happen all the time in bull markets
, 2 years back!).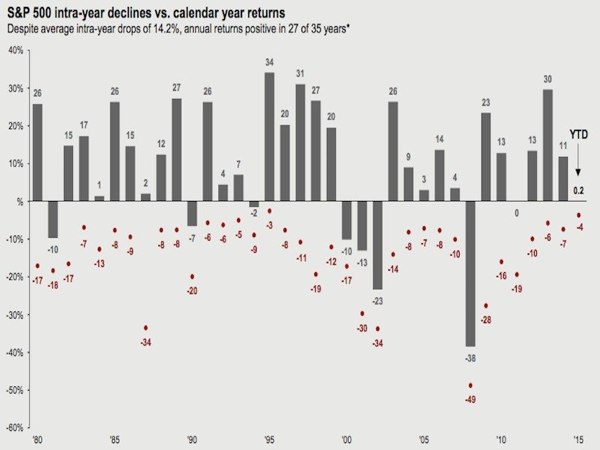 ---
Company corner
And then the biggest news of the day! The biggest news of the week! And in the history of Amazon, the biggest ever acquisition ...... ever! As per the press release -
Amazon to Acquire Whole Foods Market
. At face value it does not really seem like a perfect fit. Whole Foods of course is a business that supplies organic and fresh produce to customers that are changing their consumption patterns. According to the USDA, and their
Organic Market Overview
, herewith a graph: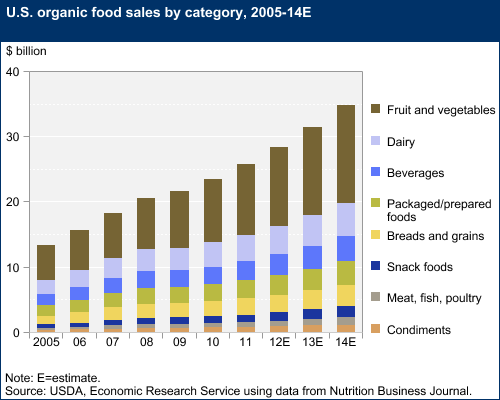 According to that article
"Fresh fruits and vegetables have been the top selling category of organically grown food since the organic food industry started retailing products over 3 decades ago, and they are still outselling other food categories ... "
Whole Foods describes themselves as follows:
"Who are we? Well, we seek out the finest natural and organic foods available, maintain the strictest quality standards in the industry, and have an unshakeable commitment to sustainable agriculture."
As society evolves and gets richer, people worry more about the quality of the calories, rather than the quantity. There are only 465 Whole Foods stores. People pay a premium for organic food. The question is asked, via the Food and Agriculture Organization of the United Nations
Why is organic food more expensive than conventional food?
Smaller volumes that require more attention.
Certification is important here. And what is also interesting is that, according to the USDA:
"Most organic sales (93 percent) take place through conventional and natural food supermarkets and chains, according to the Organic Trade Association (OTA). OTA estimates the remaining 7 percent of U.S. organic food sales occur through farmers' markets, foodservice, and marketing channels other than retail stores."
It may well be "ripe" for disruption. And may well be just the start that Amazon need in order to add another leg. The deal size is around 3 percent of the market cap of Amazon, the stock reacted positively, up nearly two and a half percent on the day. We endorse!
---
Linkfest! Lap it up
Revenue generated per employee, where would that industry be?
Which Companies Make The Most Revenue Per Employee?
What I find quite interesting is that Apple and Netflix on a per employee basis generate similar revenues. What would be a more interesting graphic would be profits per employee. Would Apple win that one?
A huge rollout for Tesla this last weekend, of their autopilot functionality.
The BusinessInsider reports -
Here's everything you need to know
. A quick glance at the Tesla website sees a subtle addition to their top bar, "Energy", next to the existing models.
Staying on the subject of energy
, this is a *nice* graphic (that dovetails nicely with the other links above):
Electric Vehicles Are Cleaning Up
.
---
Home again, home again, jiggety-jog.
Brexit talks start today. Macron has a big win in France, on a record low voter turnout (43 percent), what does that tell you? If anything? Stocks have started better here to begin with, US futures are higher. Good work!